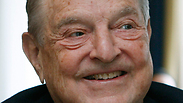 Billionaire George Soros
Photo: AP
Strangely enough, the international plot helmed by billionaire George Soros, which recently came to light due to certain leaked documents, were not given much coverage by Israeli media, and certainly not when compared to US media. Soros himself is a known anti-Israeli, and the vast support systems he has set up is not only aimed at influencing the Arab-Israeli conflict, but goes way beyond it. He decided to call his endeavor the Open Society Foundations, a somewhat odd name; the secrecy surrounding its global strategy can be called many things, but "open" is not one of them.

Anyone who follows NGO Monitor's reports on Soros knows that he isn't involved in projects that promote peace, solidarity and conciliation among different peoples. That's not his what he's about. Rather, what Soros has focused on was the funding of different bodies, most of them Palestinian, which had all taken part in a campaign that delegitimized and demonized Israel. This is already known to whoever wishes to look into Soros' track record, as Soros himself has admitted that his actions promote anti-Semitism. This evil man, who has been indicted in France for insider trading, was reportedly behind financial speculation that threatened to topple entire nations. Noted philosopher Slavoj Žižek said of him that "Soros' daily routine is a lie embodied: half of his working time is devoted to financial speculation, the other half to 'humanitarian' activities (the inside quotes are my own)." Žižek is admittedy a well-known anti-Zionist himself, but even anti-Zionists can get it right some of the time.




For a moment, a sneaking suspicion makes you wonder whether the relative quiet with which Solos' leaked documents were received here was the work of some of the organizations that he had backed, such as the New Israel Fund and breaking the Silence. This only further stresses the ridiculousness of the "NGO Law" passed by the Right, which demands that all NOGs be transparent only in regard to the backing they receive from organizations outside of Israel, when private organizations and citizens intent on ushering in a new world order can be far more dangerous.

The take-home message from the Soros affair is that a practical response must be carried out. There has to be some legislation the deals more seriously with NGO donations. When private or governmental bodies, be they Soros or Sweden or an Irish church fund, begin assisting organizations that deny Israel's very existence, or that support racism, they should not be allowed to donate to politically-affiliated NGOs in Israel. It is simply unacceptable that a body that denies Israel's right to exist should be allowed to interfere in its inner workings through a generous donation to an NGO that supports, for instance, the Palestinian right of return. A country cannot stay indifferent to a campaign that works toward its undoing. Israel's Basic Law: the Knesset, which limits the extent of any body denying Israel's right to exist to act as an elected representative, must also be implemented in regard to NGO funding.