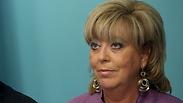 Netanya Mayor arrested in relation to bribery scandal
The Mayor of Netanya has been detained in a massive wave of arrests of Netanya municipality workers on suspicion of accepting bribes to push construction projects in the city; her son allegedly took the money and distributed it to the various municipal workers.
Netanya Mayor Miriam Feirberg-Ikarwas arrived at the offices of the Lahav 443 investigations unit of the Israel police, where she was questioned over bribery allegations. Another city official along with three other suspects were also arrested on charges of bribery, fraud, and money laundering. Two building contractors were also arrested, along with another person close to a high ranking city official.

Nati Simchoni, who has represented Feirberg in the past, said that "Mrs. Feirberg has been the Mayor of Netanya for 18 years, and has filled various positions in the municipality for four decades. Mrs. Feirberg has worked in a loyal and honest manner, and would never be attached to something like this, as her conduct is impeccable… Mrs. Feirberg respects law enforcement, and will cooperate with investigators so that the truth will come out."

This new wave of arrests is being carried out after the lengthening of the detention of four suspects on Tuesday, amongst them Tsafrir Feirberg, the mayor's son. He has been held for five days so far.

High ranking municipal officials and those close to them are suspected of working to advance the interests of several builders and developers in the city of Netanya after receiving bribes and other favors. The city officials were allegedly working with a conflict of interest without reporting it, along with receiving bribes, being involved with fraud, and being involved with money laundering.

Police and investigators from the Tax Authority searched the homes of the suspects on Wednesday morning, while freezing accounts and assets in case the relevant authorities need to seize them.

In addition to the arrest of Mayor Feirberg, the Rishon LeZion court has lengthened the detention of contractor and developer Avraham Tshuva by two days. Lawyer Avraham Gogeeg will remain in custody for five more days, while architect Gabu Tatro will remain in custody eight more days.

The police claim that Tsafrir Feriberg received bribes for another person for promoting construction projects across Netanya. The police further claim that the beneficiaries of the bribes were high ranking Netanya officials. Police also alleged that Mayor Feirberg is involved.

Judge Amit Michaels noted that "there is reasonable suspicion that all the suspects are connected. The investigation has painted a bleak picture which shows that several high ranking municipal officials were connected to equity holders for the purposes of pushing (building) projects and land improvement projects in the city, and received benefits totaling millions of Shekels. Several of the projects were carried out systematically with many different municipal officials involved."