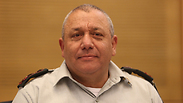 Eisenkot. Will continue to act in a businesslike, professional manner
Photo: Gil Yohanan
Defense Minister Avigdor Lieberman and IDF Chief of Staff Gadi Eisenkot can keep telling the world that they have an excellent relationship, that they have a high regard for each other and that the work relations between them are just fine, but as time goes by in the test of reality, and when looking at the decisions and statements of the two most senior figures in the defense establishment, things seem different.

One does not need sources in the office of the IDF chief – who is currently overseeing a major military exercise – to understand what he went through on Monday evening when he heard the defense minister's speech at the Ariel College about Sgt. Elor Azaria, who is on trial for manslaughter after being filmed shooting an already-neutralized Palestinian terrorist to death in Hebron.

The first part of Lieberman's comments is understandable and correct – there is no room for convicting anyone in advance of the verdict, and the judicial-military system must deliver its ruling without any opinion in the background. There is no dispute over the fact that the court must reach its decision pertinently and without any pressure.

There is a problem, however, with the second part of the comments: Lieberman declared that the defense establishment would stand by the soldier even if he was at fault, and said that "even when a soldier makes a mistake, we must give him all the help he needs."

While Azaria hasn't been convicted, he has been charged with a very serious offense of manslaughter. If his version that he shot the neutralized terrorist because he sensed danger is not accepted by the court – the IDF should not support him, just like the IDF does not support other convicted felons, even slightly bolder fighters than him.

Lieberman complained about the background noises surrounding the trial – and rightfully so – but in the meantime he seems to be serving as a sort of megaphone. The new defense minister's statements – which contradict the ones made by his predecessor in the Defense Ministry, Moshe Ya'alon, who condemned Azaria's actions and defined him as a "a soldier who transgressed" – may influence the judges and the military echelon to the same extent.

And Eisenkot? He has already seen his decision about military dormitories being canceled, and how as soon as he landed in Israel following a successful visit in Washington – a statement was issued on behalf of the defense establishment against the Americans, and he is watching the minister in charge of him become oppositional to the military legal system.

Eisenkot won't rebel, and he won't leak or brief against the minister, and he will continue to act in a businesslike, professional manner. But don't let his shy smile fool you – he is quite unhappy.