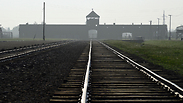 Auschwitz. The shipment arrived and the Germans did not touch it
Photo: AP
The youngest survivor of Auschwitz
Eva Umlauf was only two years old when she was liberated from the Nazi death camp. Despite her young age, she received the Auschwitz 'trademark': The number A-26959, which was tattooed on her left arm. Today, at 73, she is a successful pediatrician in Munich who has devoted her life to the treatment of small children.
Upon first listening to Eva Umlauf's story, it's hard to believe it. Only a writer with a totally wild imagination could have produced such a story. Well, it did happen. Umlauf is the youngest survivor of the Auschwitz death camp. She was only two years old when the Soviet Army arrived at the camp on January 27, 1945, yet she emerged alive.

I heard her story a long time ago, but I only recently got to meet her for the first time and discover that this woman, flesh and blood, who is still young and works as a pediatrician in Munich, is the infant from that amazing story I first heard years ago.

It turns out that there was complete chaos and disorder in the SS prior to the war's end, with one hand not knowing what the other hand is doing. On the first days of November 1945, after the Germans, who were preparing to withdraw from Upper Silesia, had already destroyed the gas chambers and the crematoria, a transport of young people suddenly arrived in Auschwitz, most of them from Slovakia.

Who had decided on this odd move, why and for what purpose? After all, the Auschwitz camps were in fact no longer operational, and if the Germans wanted to kill these Jews too, why send them to Auschwitz instead of murdering them in Slovakia?

In any event, that shipment arrived and the Germans did not touch it. They put the young people in barracks where they stayed until the survivors left the camp on the night between January 17 and 18. There were no longer gas chambers, but the young Eva, who arrived there with her mother, received the Auschwitz "trademark" anyway: The number tattooed on her left arm—A-26959.

I had heard about this story but never met her. Until recently, when I gave a lecture at a seminar in Dachau, the first concentration camp the Germans built near Munich in 1933 in order to keep the "regime's enemies" – communists and socialists – there. Only later were Jews brought there as well.

I was introduced to Eva by Mossad veteran Abba Naor, who 15 years ago initiated an international annual ceremony about the Holocaust at the "guesthouse" near the Dachau camp, the seminar at which I lectured. For the past 12 years, thanks to Naor, there has been a regular presence of a delegation of more than 10 high school students from Kibbutz Givat Brenner at the seminar.

Naor, a survivor of the camps, who often lectures about the subject mainly across Bavaria, spends several months a year in the area and returns to his home in Rehovot, Israel, for a month. When he introduced me to Eva, at first I refused to believe it, and only after asking a few questions I realized that she was the actual child from the story I had heard about so much.

Eva, who is 73 today, is a good-looking, meticulously dressed woman. In our emotionally moving meeting, she told me that she had tried for years to obtain details about how her life was saved as an infant, but failed to even find a clue. Because of her special resume, she told me, she decided at a young age that she would do anything to live a meaningful life and contribute to society as much as she could.

Today, she looks back at her life with satisfaction. She has been considered for years one of the most successful and highly regarded pediatricians in Munich. Her devoted treatment of thousands of small children feels like closure to her – the girl who survived the Auschwitz horror at such a young age.

Dachau's 29-year-old mayor, Florian Hartmann, by the way, asked me to return to Dachau – which has some 40,000 residents today – as soon as possible "in order to allow thousands of them to hear the truth about Auschwitz and about the rest of the extermination camps."

Some 40,000 prisoners – mostly Jews – were murdered in Dachau alone, while more than 11,000 were murdered in the sub-camps, a "good camp" as we defined it at the time. As Dachau is located only 15 kilometers from Munich, it attracts many tourists, with nearly one million people visiting the camp and the museum every year.

The seminar ended with an evening of singing and dancing, with a Bavarian folklore quartet presenting the ancient Schuhplattler dance, after asking the participants to purchase the traditional uniform which include, of course, short leather pants. Even with the uniform, the guys from Givat Brenner did not look Bavarian at all.