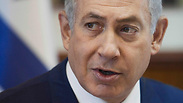 There is no one to say to Netanyahu, enough is enough
Photo: AFP
Prime minister ruled by public opinion
Op-ed: Netanyahu sees himself as a global statesman, a leader, an ideologist and a guru as well. This is a problematic combination in every democratic regime, but when it meets a politician who bases his decisions and comments on the latest poll, it becomes dangerous.
Prime Minister Benjamin Netanyahu is expected to meet Sunday with the two US presidential candidates, Hillary Clinton and Donald Trump. He sees it as an achievement: They will flood the microphones with praise for Israel and with promises to support and strengthen the Jewish state. They will likely also have a lot of praise for its prime minister. There are elderly Jewish voters in Florida, the state which may determine the outcome of the elections. They will love every word of it, and so will we.

And then we'll remember Netanyahu's alienated meeting with Barack Obama on Wednesday, a meeting in which the US president refused to speak to the Israeli prime minister privately, and the Israeli prime minister wouldn't dare raise the main question hanging between the two governments right know—will the White House or will it not prevent a difficult decision on the settlements at the Security Council.

That's how it starts, with a bang, and that's how it ends. That's the way it was and that's the way it will be. Last week, we saw this film in full, from the end to the beginning.

In his fourth term, we are living under an upgraded Netanyahu. He sees himself not just as the only Israeli worthy of serving as prime minister, but also as the person outlining Israel's road in the coming generation, defining its borders, teaching its values. In his own eyes, he is also a global statesman, also a leader, also an ideologist and also a guru. This is a problematic combination in every democratic regime, but when it meets a politician who bases his decisions and comments on what he reads in the morning in a public opinion poll, it becomes dangerous.

On Saturday evening, Netanyahu gave interviews to Israeli television channels from New York. These interviews, after a year and a half of a one-sided correspondence with the public, were a refreshing novelty. One of the issues raised during the interviews had to do with values. Netanyahu was asked if he regretted the phone call he had made to Charlie Azaria, the father of Sgt. Elor Azaria, who is on trial for manslaughter after being filmed shooting a seriously wounded Palestinian terrorist to death in Hebron. He replied that he had no regrets.

Channel 2's Udi Segal asked him if he had telephoned parents of other soldiers who allegedly disobeyed the army's orders, and Netanyahu replied: "No, but I did call many parents who were in distress over the fact that their sons had been killed or had gone missing."

The comparison between the parents of a soldier who is on trial for manslaughter and the parents of missing soldiers Hadar Goldin and Oron Shaul is outrageous, not least because of the unbridgeable abyss between fighters who sacrificed their life for the state and a soldier accused of a serious crime. It is outrageous because of the abyss separating between the parents: The Goldin and Shaul families allowed the IDF to complete Operation Protective Edge although their sons' bodies were not returned. It wasn't easy and it wasn't simple, from every aspect. They were an example and model of patriotism.

And it's outrageous because it offers Israelis in general, and those who serve in the army in particular, a distorted value system which must not be accepted. Soldiers are not children. They are adults, and the state puts a heavy responsibility on their shoulders. The tool in their hands can kill an enemy and can kill innocent people. It can cost NIS 500 or NIS 500 million. They are not pets in need of a hug and mercy. They are not children in a nursery who cling to their parents. They are adults.

Last week, I visited the place where Elor Azaria did what he did, the compound overlooking the Cave of the Patriarchs in Hebron. Nothing in this story is reminiscent of the dilemmas Netanyahu is drawing from the time he served in Sayeret Matkal, the elite IDF unit. Nothing. And Azaria's parents were not part of the story, just like Netanyahu's parents had no part in his dilemmas as a soldier.

There have been, and will be, mistakes in the IDF's activities in the territories, including mistakes which will lead to the death of innocent people. But the trial taking place in Jaffa is not about mistakes; it is about the actual existence of military authority, of combat values, of norms. It must not be turned into kitsch.

Netanyahu says what he says because that's what the latest poll taught him. The people have mercy, the people embrace, the people weep. The people expect the prime minister, the father of the nation, to hug every soldier in pity. Whether a hero or a criminal, whether a fallen soldier or a felon, they are all good, they are all worthy. And there is no one to say to Netanyahu, enough is enough.