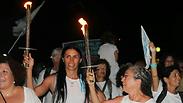 The WWP Hope March.
Photo: Natalie Kaduri, Shay Baron
Around 2,000 women on Tuesday embarked on what's being called the Hope March, from Rosh Hanikra to Jerusalem. Behind this project stands an organization of activists called Women Wage Peace (WWP), which seeks to find avenues for peaceful dialogue through women's cooperation. Thousands more are expected to join the march along the way, including politicians and cultural figures, to promote peace.

The death of former Israeli President Shimon Peres is said to be on the organizers' mind, as Peres was a symbol of striving towards peace between Israelis and Palestinians during his lifetime.

Hagit Lavi and Ulfat Haider are two of the marchers. "Anyone who cares and wants things to change and for us to go forward, is here. Everything is on us, this people, (on) how many masses go outside and come with us demanding a peace agreement."

Haider explained that, "Our group includes women and men together. We want a dialogue in feminine form, with more compassion, listening… We want women's representation among the staff of committees, of (peace) talks, (we want there) to be women in the accords there. And we are together, women and men, but the voice we want to sound is the women's attitude."

WWP was founded about two years ago in the wake of Operation Protective Edge. It has several thousand members, and according to its people, there are also Palestinian women who work in conjunction with them. Their march is set to conclude on October 19, with a peace rally in front of the Prime Minister's Residence on Balfour St.