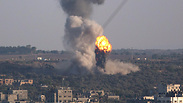 Smoke in Gaza after IDF strike, Wednesday
Photo: AP
Gaza's radicals want Israel to topple Hamas
Analysis: The Salafi organization that fired a rocket at Sderot on Wednesday is trying to get Israel to bring down Hamas's rule so that it can take its place. In response, the IDF is targeting Hamas's offensive infrastructure to increase its motivation to act against the rebel organization.
The small Salafi organization Ahfad al-Sahaba Aknaf Bayt al-Maqdis, which fired a rocket into the southern Israeli town of Sderot on Wednesday, sees itself as one of ISIS's branches in Gaza, and therefore included a small ISIS symbol on the statement it issued to claim responsibility for the rocket fire.

This organization would like to take Hamas's place in Gaza, but as its military power is limited, it is trying to get Israel to bash Hamas and do its work for it. Hamas is aware of that and is arresting the organization's members and preventing them from firing rockets and trying to ignite another war in Gaza.

The recent declarations from the defense establishment, that next time the IDF will destroy Hamas, are boosting the Salafi organization's motivation. That is also the reason why its members are firing their rockets in broad daylight, into a densely-populated area in Israel, in an explicit attempt to kill.

In the past, these organizations used to fire into open areas, either due to incompetence or because they were afraid they would be targeted by Israel. Now, however, they are stepping up their provocation, hoping to finally succeed—in case of deaths, and especially if children are hurt – to bring about a round of war in which Israel will topple the Hamas rule in Gaza.

The IDF's Intelligence Directorate is familiar with this phenomenon and knows very well that Hamas is not interested in another round of fighting at this time. The leadership of the organization's military wing believes it is not sufficiently prepared for the next war: It is facing problems renewing its rocket arsenal due to smuggling attempts thwarted by Israel, because of the Egyptian siege and, according to reports, due to damage to the tunnel system.

This current state of affairs creates a serious dilemma for Israel. On the one hand, the government and defense establishment cannot permit a situation in which a rocket is occasionally fired from Gaza, only luckily causing no harm. On the other hand, if the IDF launches another major operation in Gaza, it may end in many deaths and, more importantly, create a dynamic of escalation which will develop into other fronts as well, such as the north or Sinai.

This is not a new dilemma, and the recipe used to treat it has been a standard one for more than a year now. First of all, immediately after the rocket fire, the IDF fires back with tanks and missiles at Hamas's fortification and observation line. This fortification line is located right on the border, and is meant to allow Hamas to curb an Israeli infiltration and quickly launch an offensive into Israeli territory. Hitting that line harms Hamas.

In the second stage, Air Force planes attack Hamas's offensive infrastructure targets deep within the Gaza Strip, be it training camps, ammunition warehouses or the seaport from which Hamas plans to send out its naval commando force, if another round of fighting develops.

The attacks from the ground and from the air are aimed at increasing Hamas's motivation to act against the rebel organization and thwart their rocket fire—for example, through preventive arrests of their activists. They are also aimed at gradually reducing Hamas's strength, in its most painful weak spots, to negatively affect its fighting capability in the next round.