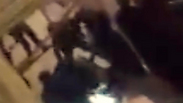 IDF soldiers filmed beating terror suspect
Soldiers arrived at the home of a terror suspect who planned to carry out explosive terror attack; suspect allegedly resisted arrest and punched their commander in the face; footage shows suspect being kicked and punched on the floor; IDF argues the video omits crucial moments preceding the incident.
A group of IDF soldiers from the Nahal Brigade were recorded beating a wanted Palestinian during his arrest in Hebron overnight Thursday after he allegedly attacked them during his arrest.

The Palestinian, Haisam Siaj, was one of three young individuals was declared missing half a year ago by the Palestinian Authority amid fears that they were planning to carry out a terror attack.

Footage showing sodiers beating Palestinian terror suspect in Hebron

According to an initial investigation into the incident, the IDF forces arrived at the home of the wanted individual, who is suspected of planning a terror attack with an explosive device.

During his arrest, Siaj is said to have attempted to escape, prompting the soldiers to forcefully prevent him from doing so, without opening fire. A scuffle then ensued after the suspect attacked them and hit their commander in the face, giving him a black eye as the two wrestled on the ground.

IDF officials have responded to the footage arguing that it has been tendentiously edited and only partially reflects the incident since it omits the events preceding it. Moreover, the officials pointed out that prior to the suspect's transfer to the Shin Bet, he received medical treatment at a military camp in the area.

The three missing suspects were found in possession of a firearm—likely intended to be used in an attack—by the Palestinian security apparatus after a week and a half in an open field near Ramallah.

In September a court in Ramallah ordered that the suspects be released after a hunger strike was launched in protest against their arrest.

In a separate incident overnight, an M-16 rifle was found and confiscated by the IDF during a search in the Palestinian city of Qabatiya in the northern West Bank.