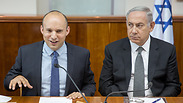 Naftali Bennett and PM Benjamin Netanyahu
Photo: Amil Salman
Prime Minister Benjamin Netanyahu met with Bayit Yehudi Chairman Naftali Bennett on Thursday to request that he postpone a vote which is scheduled to take place on Sunday on the so-called Regulation Bill designed to legalize outposts in the West Bank.
Despite the prime minister's efforts, Bennett came away from the meeting unconvinced by the reasons expounded such as a reiteration that the vote could have serious international repercussions.
During a Bayit Yehudi party meeting earlier this week, Bennett said that if a decision was not provided by the courts by the end of the week, he would bring the bill to vote at the Ministerial Committee for Legislation on Sunday.
Justice Minister Ayelet Shaked (Bayit Yehudi) and Defense Minister Avigdor Lieberman (Yisrael Beytenu) also participated in the meeting with Netanyahu and Bennett.
Netanyahu also cited the fact that the court has yet to rule on the question of delaying the evacuation of Amona.
Attorney General Avichai Mandelblit is also expected to tell Netanyahu that the softened version of the law which, which will apply to the settlement of Amona, is also unconstitutional. In doing so, Mandelblit is signalling to both the government and the Knesset that they cannot pass such a law and that he would be unable to defend the legislation if a petition were filed to the High Court against its constitutionality.
The Bayit Yehudi party is claiming that the evacuation of Amona could be the first stage in a series of evacuations which could follow and is therefore seeking to solve the problem through legislation.
According to the softened version of the proposed bill, which was submitted by Bayit Yehudi MKs Bezalel Smotrich and Shuli Mualem together with Likud MKs Yoav Kisch and David Bitan, it would only apply to settlements established with the involvement of the state and not to those whose establishment was devoid of state planning. Amona would fall within the first category.
On Wednesday, Muaelm asked Netanyahu to refrain from delaying the vote, noting that the US election results opened a new opportunity to pass the bill.
The entire affair has resulted in a continuous back and forth between ministers and MKs and the bill's proponents and opponents.