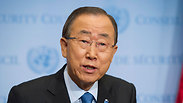 UN chief: Israeli-Palestinian peace prospects under threat
During 'International Day of Solidarity with the Palestinian People', Ban Ki-Moon calls on international community to reiterate its commitment to peace negotiations, warning that lack of progress has strengthened radicals on both sides; Israel's UN envoy slams event as 'Israel-bashing festival.'
Ban Ki-moon, whose 10-year tenure as UN secretary-general ends in a month, said Tuesday that the international community must make clear that it remains committed to peace negotiations between Israel and the Palestinians because the prospects of an agreement are "threatening to slip out of reach."
Ban, bemoaning a lack of progress in peace negotiations during his tenure as the top UN official, released a statement prior to a meeting of the 193-member UN General Assembly on the conflict. He said that events in recent years—including two unsuccessful attempts to negotiate a settlement and armed conflict—have left Palestinians and Israelis alike frustrated and disillusioned.
"It has strengthened radicals and weakened moderates on both sides," he said. "Making matters worse is a dangerous vacuum within the international community as crises elsewhere claim the attention of world leaders."
The General Assembly meeting came on the UN's annual "International Day of Solidarity with the Palestinian People."
The Palestinians want the West Bank, the Gaza Strip and east Jerusalem—areas Israel captured in the defensive 1967 Six Day War—for their future state.
Riyad Mansour, the Palestinian UN ambassador, has said that a cessation of all Israeli settlement activities and an end to what he described as a 50-year occupation of Palestinian territory are necessary for a comprehensive peace agreement.
Israeli Prime Minister Benjamin Netanyahu has rejected those terms saying negotiations should take place without conditions. Israel views the territories as disputed lands rather than occupied. Moreover, the Israelis have argued that groupings of settlements known as "blocs," where a majority of Israelis live, should remain in Israel under any peace deal with the Palestinians, with other smaller settlements deeper in the West Bank relinquished.
In September, the international diplomatic "quartet" of Mideast peacemakers called for Israel and the Palestinians to take steps to resume stalled peace talks. At a meeting on the sidelines of the UN General Assembly, the top diplomats of the European Union, Russia, United Nations and United States urged the parties to create conditions for restarting "meaningful" negotiations toward a two-state solution.
Danny Danon, Israel's UN ambassador, criticized the General Assembly during Tuesday's meeting, saying members bash Israel every year over the issue of the Israel-Palestinian conflict even though he said the Palestinians' commitment to negotiating an agreement is questionable.
"Every year, on this date, this chamber holds this same, cynical, Israel-bashing festival," he said. "Every year, we hear speaker after speaker distorting history and promoting a completely one-sided narrative."
Mansour told the General Assembly he hoped that by next year's International Day of Solidarity with the Palestinian People a lasting solution could be found.
"This may sound like wishful thinking, considering the harsh realities that overwhelm us and the fatigue felt by the international community after so many years of conflict, setbacks and tragedy," he said. "Yet, this remains our primary, overarching objective."
Deputy Secretary-General Jan Eliasson, reflecting on the state of the Israel-Palestinian conflict, said in a statement that the admission of Palestine to the United Nations as a non-member Observer State in 2012 was a historic milestone during his and Ban's tenure.