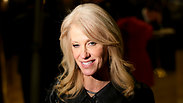 Kellyanne Conway
Photo: EPA
Though he has refrained from making many public statements on the matter since his election, US President-elect Donald Trump's senior aide Kellyanne Conway reiterated his plan to move the US Embassy from Tel Aviv to Jerusalem.

Speaking to conservative radio host Hugh Hewitt about moving the embassy to Jerusalem on Monday, Conway said, "That is very big priority for this president-elect, Donald Trump. He made it very clear during the campaign, Hugh, and as president-elect I've heard him repeat it several times privately, if not publicly."

While former US presidents Bill Clinton and George H.W. Bush reneged on their own statements to move the embassy to Israel's capital after they had become presidents, Conway believes Trump will follow through on his promise.

"It is something that our friend in Israel, a great friend in the Middle East, would appreciate and something that a lot of Jewish-Americans have expressed their preference for," she said. "It is a great move. It is an easy move to do based on how much he talked about that in the debates and in the sound bites."

Trump sat down with Prime Minister Benjamin Netanyahu last September to discuss US-Israel relations. During the meeting, he reportedly told Netanyahu that he intends to have Jerusalem officially seen by his administration as Israel's capital. "Mr. Trump acknowledged that Jerusalem has been the eternal capital of the Jewish People for over 3000 years, and that the United States, under a Trump administration, will finally accept the long-standing Congressional mandate to recognize Jerusalem as the undivided capital of the State of Israel," his campaign stated following their discussion.

The United Nations and most Western countries do not recognize Jerusalem as Israel's capital. All embassies to Israel are currently in the Tel Aviv area.