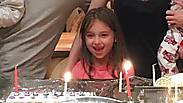 Happy Hanukkah from Arabella Kushner
US President-elect Donald Trump's Jewish grandchildren lit their Hanukkah candles in Hawaii this year. Trump's daughter Ivanka, whose Hebrew name is Yael Kushner, has shared a photo of the first Jewish family lighting the first Hanukkah candle, which was likely taken Saturday evening.

"This year is one of the rare and special occasions where Hanukkah and Christmas coincide," she wrote. "As we light the candles, sending love from our family to yours this holiday season! Merry Christmas & Happy Hanukkah!"

Ivanka, her husband and their three children—Arabella, Joseph and Theodore—are spending the holiday in Hawaii. On their way to their vacation, the family was verbally attacked by a fellow passenger on a JetBlue flight.

According to TMZ, the man yelled at Ivanka, "Your father is ruining the country. Why is she on our flight? She should be flying private." He was then escorted off the flight.

Ivanka Trump is considered the strongest woman in the president-elect's business and election campaign. She converted to Judaism eight years ago before marrying Jewish businessman Jared Kushner in a process performed by Rabbi Haskel Lookstein of Manhattan. Ivanka belongs to his congregation and says she lives as an Orthodox Jew, observing Shabbat and kashrut laws. She has said in past interviews that her father supported her decision to convert.

Several days before Election Day, she visited the grave of the Lubavitcher rabbi to pray for her father's success. She was accompanied by her husband and by Trump's advisor on Israel, Jason Greenblatt.