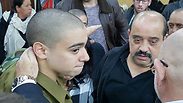 Elor Azaria
Photo: Yoav Zitun
Azaria's judges and chief prosecutor assigned security detail
Amid fear of violent reprisals, all three judges who convicted Sgt. Elor Azaria of manslaughter, along with the chief prosecutor, are to be escorted by security personnel in the coming days; Attorney General: 'Claims that law enforcement officials supposedly act according to external reasons are unfounded and irresponsible.'
The IDF has assigned a security detail to protect the three judges involved in the trial of Sgt. Elor Azaria who, on Wednesday, convicted him of manslaughter of a Palestinian terrorist.

Security guards have also been assigned to the chief military prosecutor in the case, Lt. Col. Nadav Weissman amid fear of violent reprisals of angry supporters of the soldier.

The judges—Central Command Chief Justice Col. Maya Heller, Col. Carmel Wahabi and and Lt. Col Yaron Sitbon— will be escorted by security guards throughout the coming days.

Following the steady flow of harsh reactions to the decision to convict Azaria, the State Attorney General Avichai Mandelblit issued a special statement defending the rule of law.

"Israeli law enforcement system, including the military justice system, fulfilling its role independently, impartially and devoid of bias, and according to legal and professional considerations only. Respect for the state legal system and judicial decisions is a fundamental rock of Israeli democracy. Claims that law enforcement officials supposedly act according to external reasons are unfounded, irresponsible and must be fully condemned.

In the afternoon, Weissman also met with Chief Military Advocate Brig. Gen. Sharon Afek and are expected to meet once again to discuss the punishment that will be imposed on Azaria. The convicted soldier is expected to be sentenced in approximately one month.

Outside the courtroom, hundreds of protesters gather in solidarity with Azaria. However, some of the chants raised concern, particularly when combined with some of the violent actions taking place. "You haven't yet heard the last word. We will shake up the country," was the message that the enraged protesters transmitted to the family.

But the four main actors in the case were not the only ones to fall prey to the violent threats of angry mobs. Channel 2 aired footage of some protesters chanting "Gadi, Gadi beware, Rabin's looking for a friend," referring to the Israeli prime minister who was assassinated.

Reut Rimerman, Tova Tzimuki and Yonatan Baniyeh also contributed to this report.