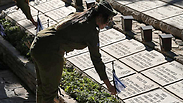 The IDF's Manpower Directorate released data on Sunday that reveal a slight rise in the number of fallen soldiers in 2016: 41 versus 36 in 2015; of the 41, 15 died at their own hands.

However, this figure is small relatively to the two years before. In 2013 and 2014, when Operation Protective Edge took place, 45 and 105 soldiers were killed, respectively. Between 20005 and 2011, the figures range between 54 and 99 per year. Unusually, of the 15 who committed suicide in 2014, all were men.

The IDF has not laid its finger on an explanation for this but did point out that the same number of soldiers killed themselves in 2014. Indeed, the data over the past decade for IDF suicides has been stable with the exception of 2013, when only 7 soldiers committed suicide.

A mere eight days in 2017, seven soldiers have already died. Yossi Mizrachi was killed in a road accident on Sunday morning, a recruit in a combat unit killed himself on Saturday, and last week, Maj. Hagai Ben Ari succumbed to his wounds from Operation Protective Edge. Further, four soldiers were murdered on Sunday in a terrorist attack.

Of the 41 fallen in 2015, four were killed in terrorist activity, compared with six in 2015. Five died in incidents labeled "unique"—for example, Cpl. Ilan Yanilevich, the soldier who drowned in a water reserve in the western Negev, and six soldiers who died of disease.

In addition, seven soldiers were killed last year in traffic accidents, an identical datum to that of 2015.

Ten of those who died in 2016 were soldiers who served beyond their mandatory enlistment period, two were in their reserve service, and the rest were soldiers during their mandatory service. An additional 43 soldiers were seriously wounded last year.

A senior officer in the Manpower Directorate said, "Most of the fallen soldiers who committed suicide last year were soldiers in their mandatory service, and the act was during their service and not during their training. There is no characteristic of those who commit suicide being from a specific population, and one of them was an Ethiopian immigrant. Most of them served in forward units, but not necessarily in combat roles."

She stated the IDF was continuing its widespread program against suicides with an emphasis on providing tools to commanders to identify warning signs in those under their command. "We told them to be in contact with the soldiers principally during sensitive periods like the holidays. We have two call centers that are operational 24/7 to provide support to soldiers in need."

She explained, "In every case of suicide, the military police investigate, and a special committee headed by a colonel investigates to identify systemic problems which we treated, such as the transfer of responsibility for a soldier who passes between units or proper pastoral care."