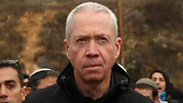 Yoav Galant
Photo: Ohad Zwigenberg
Minister Galant: Expel terrorist's family to Syria
Housing and construction minister, a former IDF general, calls for legislation that would give the interior minister authority to expel families of terrorists and revoke their national insurance benefits; 'We need to kill the terrorist, demolish his home and expel his family,' Galant tells Ynet.
Cabinet member Yoav Galant called on the government on Monday to expel the family of the Jerusalem vehicular terrorist to Syria and deny his relatives national insurance benefits.

"It can't be that the State of Israel pays national insurance benefits and supports the family of people who ... carried out a terror attack," Galant told Ynet.

East Jerusalem resident Fadi Ahmad Al-Qunbar rammed his truck into a group of soldiers in East Talpiot on Sunday, killing four IDF officers and wounding 17 others. His sister praised his actions, saying it is "the most beautiful martyrdom."

The housing and construction minister said he raised his proposal to the security cabinet, calling to "promote legislation that would give the interior minister the authority to immediately expel, and beyond that the authority to immediately revoke national insurance benefits from the family of anyone involved in terror activity."

Galant complained that "on the one hand, we extend our hand in peace to anyone who wants to live in coexistence with us, but we can't accept a situation in which a father of four—almost 30 years old—takes a truck and runs over people."

"The meaning of this is clear," he added. "We need to kill him, demolish his home and expel his family. And his family should be expelled not to Gaza, but to Syria."

The minister, a former IDF general from the Kulanu party, said that we are in the midst of a 100-year fight against terrorism. "Anyone who thinks our enemies have accepted the fact we're here is mistaken. We're fighting for our lives all the time and the defensive tool that gives us life is the IDF and its soldiers. Unfortunately, we also have to pay a price. The citizens are not aware of the fact that the IDF, the Shin Bet and the police stop terror attacks every day."

He drew a link between terror attacks carried out by ISIS around the world and the attack in Jerusalem. "This phenomenon of global terrorism, in which people are beheaded or run over by trucks, is something that spreads through the web, on TV, in other places, and inspires others. We will not allow ISIS to establish itself in Judea and Samaria. Some people want this. The amount of ISIS suspects arrested over the past year in Judea and Samaria has grown tenfold, and we're making every effort to stop it."