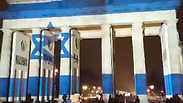 Brandenburg Gate in the German capital of Berlin was lit up in the colors of the Israeli flag on Monday, in a symbolic act of solidarity with Israel, following Sunday's deadly terrorist attack in Jerusalem which killed four.

"I got goosebumps, especially when I know who marched there 75 years ago," said Avital Direktor Barber to Ynet, an Israeli who lives in Berlin.

Just hours after the deadly vehicular attack in Israel's capital, activists began requesting from the Berlin Municipality to illuminate the gate up in blue and white and by Monday evening, their efforts had yielded results.

The German Foreign Ministry explained why it had chosen to adorn the pillars with the Israeli flag on its Twitter account: "The gate is lit up with the colors of the Israeli flag as a sign of solidarity with the victims of the terror attack that took place in Jerusalem."

Avital Direktor Barber added that witnessing the colours illuminate the German landmark provided a sense of revenge or at least victory. "A victory that says: 'here we are, with all the disasters that befall us, and with all your attempts to destroy us, here is the beautiful flag in the world just a few meters from Hitler's bunker.'"

Visiting the site, Rabbi Yehuda Teichtal, the rabbi of the Berlin Jewish community, said: "Of all places, here in the city of Berlin, in which just two weeks ago there was another vehicular attack, we stand and say to the people in the Holy Land that we stand together with you. We express our solidarity with the families of those killed and those wounded."

"The aim of terrorists is to instill fear butt hey will fail, both in Jerusalem and in Berlin," he said.