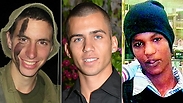 Hadar Goldin, Oron Shaul and Abera Mengistu
Report: Qatar mediating prisoner exchange deal between Israel and Hamas
Hamas source claims the terror group made the commencement of talks conditional upon the release of 60 prisoners who were released in the Shalit deal and subsequently arrested once again; Israel agreed while insisting they be expelled to Gaza or Qatar—a demand Hamas reportedly rejected.
The Arab-Israeli newspaper Kul al-Arab has reported that Qatar is mediating between Israel and Hamas in a potential prisoner exchange deal that would secure the release of Lieutenant Hadar Goldin and Staff Sergeant Oron Shaul, who were both killed during Operation Protective Edge in the summer of 2014.
The deal may also involve the return of Avraham 'Abera' Mengistu, an Ethiopian-Israeli reportedly held hostage by Hamas after he was seen crossing the border into Gaza out of his own volition in 2014.
According to the report, Hamas made the talks conditional upon the release of 60 prisoners who were released in the Shalit deal and who were subsequently arrested at various stages following its implementation.
The report suggests that Israel agreed to the demand on the condition that the released prisoners are expelled to the Gaza Strip or Qatar. This suggestion however, was apparently rejected by Hamas.
An official close to Hamas told Ynet that Qatar's ambassador to the so-called Palestinian territories Mohammad al-Amadi—who is responsible for rehabilitation projects in Gaza, often visits pays visits there and occasionally meets with Israeli officials—is involved in the negotiations.
The Mengistu family said however, that they were unaware of any such talks. "The family is not updated on the issue. Until we see Abera, the publications do not console us," they said.
Oron Shaul's mother, Zahava also said that she had not been informed of the negotiations and called on the prime minister "to act to bring back my son Oron from the war. Don't leave my son with Hamas."
The report comes just days after the family of Hadar Goldin issued a scathing statement over what they described as the government's failure to engage in any serious negotiations to secure the release of their son's body, or that of Oron Shaul.
"Unfortunately, the prime minister waved a white flag at Hamas and gave up on bringing Hadar and Oron home. The Israeli government is demonstrating terrible weakness to Hamas," the statement said.
While the two sit in Hamas captivity, the family said, "Netanyahu releases bodies of terrorists, while Hamas prisoners receive deluxe conditions and the government pays the salaries of Hamas terrorists."