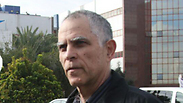 Yedioth Ahronoth publisher Arnon Mozes was questioned on Sunday for the third time for about eight hours in the Lod office of the Israel Police's Lahav 433 Unit in relation to conversations that he had with Prime Minister Benjamin Netanyahu.

Sunday evening, Channel 2 broadcast additional quotations of the meeting between the two. The new citations follow:

Arnon Mozes: Bibi, there are elections in another three and a half months. There'll be millions of elements on you. We handled this in 2009; maybe you forgot.

Benjamin Netanyahu: I didn't forget anything.

AM: This is an intelligent procedure. It's good that we were apparently in the same situation. We've already been down this road; we've done it. This is our fourth election cycle, not third, fourth: '96, '99, 2000 and now.

Presuming that we agree on things, you have to let somebody talk to Ron (Yaron—Yedioth Ahronoth's editor-in-chief), anybody you want. You've not done this in months.

BN: Nir Hefetz could talk with him?

AM: No. Nir wanted to do two things: He wanted to work for you and be an editor at Yedioth. So I don't want that. Nir talks to him regularly, but he doesn't trust Nir. The thing is that at 10:30 at night, I happily go to sleep. There's always things. Your important points. He needs to be in contact with two people.

BN: It's not 10pm.

AM: He needs to talk with two people. With Ron and with Eran (Tiefenbrunn—a former Ynet editor).

BN: Nir can't talk with Eran? It's better that he doesn't?

AM: There's precipitation. There's a past. Nir was the editor of Seven Days and wants to be the editor of Yedioth. He's missed up. Ynet is less of a problem. It's during the day. It's easier. If there are important things, you can talk to me during the day. During the day, there's a connection with Ron. Look, Bibi, we need to do everything quickly because I need to move the ship. I'll talk to Ron on Sunday.

BN: Turn the ship around.

AM: I'll tell Ron on Sunday that he'll be contacted. It's a start. There were a few small things, one or two, that he asked for and it happened.

Guy Peleg also reported on "information that reached the police on Netanyahu's involvement and brokering with businessmen in an attempt to make them partners in Yedioth Ahronoth so that he would receive, as it appears according to the information, better coverage. And who stars in this list is James Packer, the hero or one of the stars of the 1000 affair, that same Australian billionaire.

"According to the information that reached the police, Arnon Milchan also, the hero of the 1000 affair, mediated between Packer and Mozes from Yedioth Ahronoth when the prime minister according to the information that was received, he was the one who prepared Packer for meetings with Mozes.

"According to information found and examined by the Police, Netanyahu mediated the sale of Yedioth Ahronoth also to the German company Axel Springer. The prime minister, again according to the information that reached the police, spoke with the chairman of the company's CEO, Dr. Matias Döpfner.

"According to testimonies that the police have, it was important that he buy the newspaper. Netanyahu also mediated between Larry Ellison, the owner of Oracle. Mozes also met with Ellison in an attempt to bring him to purchase Yedioth Ahronoth. As was stated, three businessmen who are involved according to the suspicion of mediating and operating so that they would take over Yedioth Ahronoth."

Mozes after questioning

Netanyahu said this morning at a meeting of Likud ministers, "Naturally, I can't get into the details of the matter. What I can tell you is that there's a campaign of tendentious leaks intended to mislead the public and distort the true picture as if there were crimes here that weren't."

The prime minister added, "These matters will become clear later on. Therefore, like I said and you already know: There won't be anything because there isn't anything. I saw the rallies of the left on Saturday night. I repeat to my friends in the opposition: Don't rush to celebrate. We'll be here and will continue to lead the country for many years to come."

Saturday night, Channel 2 broadcast additional quotations from the conversations between Netanyahu and Mozes, in which journalists from Yedioth Ahronoth and others are discussed. According to the report, Netanyahu said, inter alia, "We're talking about moderation, about reasonable media, lowering the hostility level towards me from 9.5 to 7.5," and Mozes replied, "It's clear to me. I got it. We need to make sure that you'll be prime minister."

Arnon Mozes is the publisher and owner of Yedioth Ahronoth Group, which includes Ynet.