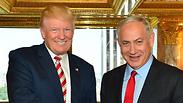 Trump and Netanyahu
Photo: Kobi Gideon, GPO
In his first message to the new American administration, Prime Minister Benjamin Netanyahu congratulated new President Donald Trump, saying, "Congratulations to my friend, President Trump. I look forward to working closely with you so that the alliance between the United States and Israel will be stronger than ever. Shabbat Shalom."

Israel is now waiting for a meeting between the two men, which has been defined as "critical" following eight years of strained relations between the Israeli government and the administration of former President Barack Obama. That meeting, apparently, may be coming sooner than expected, as Netanyahu has sent overtures to Trump through associates.

Netanyahu sees Trump as a true friend of Israel and his presence in the White House as a rare opportunity.

Government officials estimated that the meeting may take place in the first week of February.

Netanyahu is expected to travel to Australia and Singapore at the end of January and is due to visit Washington at the end of March for the annual AIPAC meeting. However, the prime minister doesn't want to wait until the end of March for a meeting with President Trump and is therefore making an effort to have the meeting as soon as possible.

Netanyahu in message to Iranian people

The first meeting between Netanyahu and Trump is expected to touch on big issues such as regional conflict, settlement construction, the Iranian nuclear deal, resumption of sanctions against the Islamic Republic and the issue of relocating the American embassy from Tel Aviv to Jerusalem. The meeting will be crucial to the design of American government policy towards Israel and the Israeli-Palestinian conflict.

According to Israeli officials, Trump will seek to embrace Israel and demonstrate close friendship, in contradiction to the Obama administration.

Netanyahu is also expected to meet with US Secretary of State Rex Tillerson and coordinate issues on the agenda. Jared Kushner, Trump's Jewish son-in-law, is also expected to take part in the meeting, in addition to Ambassador to Israel David Friedman and special advisor on Israel affairs, Jason Greenblatt.