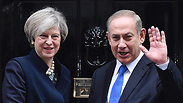 Netanyahu with Theresa May
Photo: AFP
PM Theresa May tells Netanyahu Britain supports two states
PM Benjamin Netanyahu and PM Theresa May met in Downing Street for the first time to discuss a series of issues relating to the Middle East and strengthening cooperative ties; Netanyahu drew attention to the threats posed by Iran, while a sympathetic May celebrated 100 years since the Balfour Declaration while reiterating her support for a two-state solution.
Prime Minister Benjamin Netanyahu and British Prime Minister Theresa May held a meeting in the UK Monday afternoon to discuss a series of issues involving the strengthening of their strategic, security and diplomatic ties.
The two prime ministers expressed their commitment to working together for the mutual benefit of their countries, and countering a host of challeneges threating international stability.
"I'm very pleased to welcome you to 10 Downing Street, particularly in the year in which we recognized the Balfour Declaration," May said in her opening remarks.
PM Netanyahu and PM Theresa May (צילום: רויטרס)
"Britain remains a very strong, close friend of Israel, with lots of areas in which we already work together, such as science and trade, but also other areas like security."
May went on to list a number of fields in which the two allies could boost their cooperative efforts.
"There are a multiple areas that we can add to that, looking to the future, and I'm sure we will talk about that and how we'll continue building our relationship today, but we'll also talk about some issues around the region, such as Syria and Iran, and the whole question of the future of the middle east."
May also reiterated her country's support for reaching a two-state solution between Israel and the Palestinians. "We remain committed to a two-state solution. It's the best way of building stability, peace and prosperity in the future," she stated, before opening the floor to Netanyahu.
Thanking Prime Minister May for her warm greeting, which he said reflected the strength of the relationship between the two countries, Netanyahu emphasized the security challenges facing the Middle East, adding that his country share's Britain's desire for peace.
"This is our dream, from day one, and we will never give up on our quest for peace with all of our neighbors. I think there are challenges there, but there are some new and interesting opportunities because of these regional and global changes."
Reverting to the subject of Iran, Netanyahu catalogued a plethora of dangers that Iran posed to regional and international security.
"Iran seeks to annihilate Israel, it seeks to conquer the Middle East, it threatens Europe, it threatens the West, it threatens the world, and it offers provocation after provocation. That's why I welcome President Trump's insistence of new sanctions against Iran. I think other nations should follow suit, certainly responsible nations," he asserted.
Netanyahu also congratulated Queen Elizabeth as she made history by reaching the Sapphire Jubilee—making her the first British monarch to reach a 65-year reign.
A short while before Netanyahu arrived the PM's residence, several pro-Palestinian activists protested outside Downing Street while a group of pro-Israeli protestors arrived shortly after to stage a counter-protest.