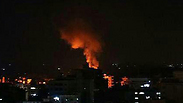 IDF strike in Gaza. The situation is hanging by a thread
What appeared Monday afternoon as a routine Israeli response to a rocket fired from the Gaza Strip took on the form of an escalation in the late afternoon hours. The reason, experience teaches us, is that the fighting on the Gaza border likely has other dimensions, which are less visible but still concern the IDF and the State of Israel.

The airstrike and the tank fire on Hamas posts point to a clear intention of the IDF to clarify to the Palestinian organization that it is blatantly violating the calm, and is therefore paying for it through the destruction of observation and fighting posts along the strip's fence.

Since Operation Protective Edge, Hamas has been maintaining a calm and even stopping Salafi organizations from firing into Israel but has not always been successful. On Monday, after a rocket exploded on Israeli territory, a Salafi organization issued a statement protesting Hamas's harassment against its people, thereby basically taking responsibility for the rocket fire.

But Hamas itself is not resting on its laurels either. Its military wing is intensively producing rockets, and possibly other weapons as well, aimed at surprising Israel during a conflict. Hamas is also intensively engaged in digging all kinds of tunnels, including tunnels infiltrating Israeli territory.

Israel is doing everything in its power to disrupt this underground effort, and its bombing of Hamas gathering and observation sites from the air and from the ground may be connected to this secret war.

For now, there have been no reports of deaths among Hamas people, and as long as that is the case – there is a chance that there will be no escalation. There is a possibility, however, that there was a development which we are unaware of inside the strip as a result of the Israeli fire, and if there were deaths in that case, it raises the chances of an escalation.

The IDF is well prepared for high-trajectory fire from the strip, although at the moment there are no clear signs that this is what is about to happen. The situation can be described as hanging by a thread, while both sides – the IDF, Hamas and the Palestinian Islamic Jihad as well – intend to contain it and to avoid igniting a fire which may get out of control.