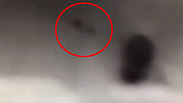 Shots fired at the IDF from Gaza
Despite military evaluations which conclude that Hamas presently has no interest in provoking Israel into another conflict with the Gaza Strip, a number of incidents have taken place in recent weeks which have prompted forceful responses from the IDF.

One such incident took place two weeks ago in which a member of Hamas began firing on IDF soldiers from an observer outpost inside the strip and was stopped thanks to a female soldier who spotted the attack near a military lookout post near Gaza in the Kissufim in the Negev

Shooting recorded on camera

Private Gali Badhani, was on her first guard shift since completing the lookout observer course when she spotted a Hamas terrorist loading his gun and taking aim against Israeli forces near Gaza in the Kissufim in the Negev.

"At around 8pn I started my first shift...After an hour, forces circling the field told me that they were overseeing work (in the area) and asked that I scour the area for them," she said.

"I started scouring the area and I saw an armed man pointing his gun eastward where the work was going on. I got on the walkie-talkie and warned them. At the same moment, the gunshots started," the Petah Tikva resident recalled.

"We alerted the war room and then I went on to direct the tank that hit the outpost."

Her unit, she said, acts as the eyes for the Gaza region. "We scour the area and the moment we see a person moving around, we immediately prick up. I never thought I would find myself in a situation like this already by the first shift but that is my job—to be alert and sharp all the time," she continued.

Since the conclusion of Operation Protective Edge, Hamas has erected a number of military observer outposts along its border as part of its desire to impose its governance on the strip.

One IDF official noted that there are two reasons for Hamas's construction of the outposts.

"On the one hand it wants to impose its sovereignty and control across the border, while on the other hand it wants to create a security line and observer posts to see what is happening on the Israeli side," he said.

The latest such altercation to have occurred between Israel and Gaza took place on Monday after a rocket was fired toward the Hof Ashkelon area in the morning and Hamas forces opened fire on an IDF force working near the Gaza border fence in the southern Gaza Strip in the evening.

The IDF responded by targeting a number of Hamas outposts both from the skies and land.