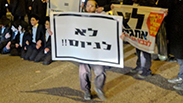 Sign reads 'Don't draft'
Photo: TPS
Scores of Haredim arrested in protest across the country
Hundreds of Ultra-orthodox demonstrators stage protests from Jerusalem to Bnei Brak against the arrest of Yeshiva student who deserted the IDF; arrests made after the crowds attempt to block roads and disrupt flow of traffic; Police vows zero tolerance toward 'attempts to block routes and disrupt routine.'
Chaos erupted on Israel's streets on Tuesday night when 67 Haredi protesters were arrested while they were demonstrating against the arrest of a Yeshiva student for military desertion. Three policemen sustained light injuries in what escalated into riots.

In the Ultra-orthodox city of Bnei Brak—one of the locations where the protests were held—the demonstrators attempted to block a central junction, leading the the immediate arrest of 15 people and signalling just the beginning of what was to come within the next few hours.

Haredim protest throughout Israel (Photo: TPS) (צילום: מתי עמר TPS)

In Jerusalem, another seven Haredim were arrested shortly thereafter while in Beit Shemesh, five more were handcuffed for disruption of public order offences and attempting to block roads.

Another protests was also staged at Shilat Junction on Route 443 as the total number of arrests steadily rose throughout the evening.

Despite the demonstrations, the police announced that the they had managed to keep the routes open in Bnei Brak, thwarting their attempted closures by the Haredim.

However, Rabbi Akiva Street reportedly remained blocked to traffic from both sides.

"We will respond with a zero-tolerance policy to attempts to block routes and disrupt routines. While the protest itself was not approved, the Israel Police has allowed for the freedom of expression," a statement read.

In Jerusalem, hundreds of protesters flooded into the streets and managed to block the main Bar Illan Junction while others attempted to block another road in the capital before being dispersed by police.

Beit Shemesh saw similar incidents and attempts which were also frustrated by police dispersal methods.

By 9pm, 150 Haredim succeeded in causing traffic disruptions at Shilat Junction, managing for a short period of time to block the way to Tel Aviv.

The radical 'Jerusalem faction' of the Lithuanian Orthodox sect responsible for launching the strike already announced earlier its intention to keep the demonstration at full force until the release of the student. The group's leader, Rabbi Shmuel Auerbach, was said to be the ringleader of the protest.

By midnight, 49 had been arrested, but the number of offenders soon rose to 67 as the nature of public disturbances descended into rock-throwing and setting garbage cans alight.

Kobi Nachshoni, Roi Yanovsky, Shahar Chai and Ra'anan Ben Tzur contributed to this article.