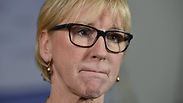 To the benefit of all peace-loving peoples, Sweden has announced the appointment of a special envoy to solve the Israeli-Palestinian conflict.

Israeli Foreign Ministry spokesman Emmanuel Nahshon marked the occasion by issuing a somewhat sarcastic statement saying, "Given the extraordinary success of the current Swedish government in making peace all over the world, we are grateful for the decision to finally solve the ills of our region. Why couldn't they think of such an appointment earlier?"

In other Swedish news

Iris Lifshitz-Kliger & Gahl Becker

The women in IKEA's new Haredi catalogue are conspicuously out of stock, inadvertently creating all-male families; 'Where are the women?' wondered one commenter; IKEA Israel says the new catalogue 'allows the religious and Haredi communities to enjoy thumbing through our products.'

Swedish Foreign Minister Margot Wallström, announced the appointment during a special speech before the Swedish parliament.

"This year, we mark 50 years of the occupation of Palestine. Sweden continues to work toward a resolution to the Israeli-Palestinian conflict and will appoint a special envoy," said Wallström.

"After visiting Palestine last December, I was impressed that hope can turn to despair and this is reflected in consultations Sweden held with 150 social organizations, both Israeli and Palestinian. Security Council resolution 2334 on Israeli settlements and the international conference in Paris are the best scenarios to create the conditions necessary for a resumption of the peace process for a two-state solution."

A senior Israeli diplomatic source said that the Swedes are aware of Israel's cool attitude towards them. However, according to the source, all the Swedes care about is the perception of Sweden as a peacemaking country.

Likewise, Israel's standing in Swedish public opinion has never been worse. Members of the Swedish left refuse to meet the Israeli ambassador in Stockholm, Isaac Bachman, but are willing to meet with Hamas.