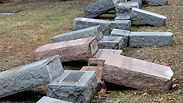 Gravestones overturned
Photo: Reuters
Two days after a Jewish cemetery in St. Louis Missouri was vandalized, family members of those buried continued to make their way to the gravesite, now littered with toppled tombstones, to discover whether their family member's grave had been among those damaged.

Officials believe that the anti-Semitic act was carried out sometime between Sunday and Monday morning when the Chesed Shel Emeth Cemetery cemetery was closed.

President Trump denounces anti-Semitism

Investigators are continuing to assess the CCTV footage as they seek to identify any clues which could help lead to the capture of the people who perpetrated the act which has rocked the Jewish community in the US.

Several Jewish community centers were also evacuated for a time on Monday after receiving bomb threats, the JCC Association of North America organization said.

The managers of the cemetery announced that they would publish on Wednesday the names of all people whose tombstones were desecrated.

"Many tombstones were toppled and we can't read the names on them or know what the damage is until we pick them up. We want to minimize all future damage and need to take appropriate preventative steps," one of the managers said.

One woman said that the increase in anti-Semitic incidents in the US could be directly attributed to what she described as "bigots" now sitting in the White House.

"There's so much anti-Semitism now with all the cabinet members. Maybe I shouldn't say that but you can't put bigots ands people with so much hatred in a cabinet and not have them think that it is ok to hate everybody," the concerned woman said.

However, on Tuesday, President Trump issued a statement, directly confronting the issue of anti-Semitism, the end of a tour of the National Museum of African American History and Culture in Washington, where he also spoke out against racism.

"The anti-Semitic threats targeting our Jewish community and community centers are horrible and are painful and a very sad reminder of the work that still must be done to root out hate and prejudice and evil."

Trump's Tuesday comments were praised by several Jewish organizations.

Jonathan Greenblatt, chief executive of the Anti-Defamation League, the Jewish civil rights group that has been highly critical of Trump, called the statement an "important first step."

"I think the Jewish community has been looking for leadership from the president. I was encouraged to hear him step up and say that proactively and now we need to look for the follow-up so we can move from words to action," Greenblatt said.

Sean Spicer defends Trump on anti-Semitism

Matt Brooks, executive director of the Republican Jewish Coalition, said in a statement that his group applauds "President Trump and his daughter Ivanka for their strong words in condemning these unspeakable actions."

Indeed, on Monday Ivanka Trump, who converted to Judaism, wrote on Twitter, "We must protect our houses of worship & religious centers," and used the hashtag #JCC.

Still, some said Trump had not done enough. On its Facebook page, the Anne Frank Center for Mutual Respect called Trump's Tuesday comments a "Band-Aid on the cancer of anti-Semitism that has infected his own Administration."

White House spokesman Sean Spicer pushed back against those remarks at a news conference Tuesday. He said Trump has spoken forcefully against hate, arguing, "It's ironic that no matter how many times he talks about this that it's never good enough."