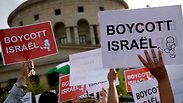 Anti-Israel protest. The damage in banning entry exceeds the benefit
Photo: EPA
Banning entry is not the way to fight anti-Israel groups
Op-ed: Barring representatives of organizations with a clear anti-Israel agenda from the country only generates more hostile headlines and articles. The most logical move would be to prevent funding originating in bodies that support the BDS movement or deny Israel's right to exist as a Jewish and democratic state.
A fool is someone who makes the right move after making all the wrong moves. When it comes to bodies posing as "rights organizations," Israel is at the stage of the wrong moves.

The latest unnecessary move was the attempt to bar a representative of the Human Rights Watch (HRW) organization from entering the country. It's not that the claims against this organization are wrong—on the contrary. We are talking about a hostile body, and there is not enough room to elaborate on all its misdeeds against Israel.

For example, Sarah Leah Whitson, the executive director of HRW's Middle East and North Africa Division, served in the past on the board of directors of the American-Arab Anti-Discrimination Committee—an extreme anti-Israel body. She is a pronounced supporter of the anti-Israel boycott and has even traveled to Saudi Arabia to raise funds for publications against Israel.

Her deputy, Joe Stork, arrived at HRW after being active in radical bodies with an agenda that included supporting Palestinian violence, including showing an understanding towards the massacre of 11 Israeli athletes in Munich. Another senior organization member, Marc Garlasco, who is responsible for some of the most scathing reports against Israel, was revealed as a collector of Nazi memorabilia. He was forced to leave the organization, but returned to it as an advisor.

The organization itself officially supports the "right of return"—in other words, the Israel's destruction as a Jewish state. In order to thwart the chances of peace, HRW Executive Director Kenneth Roth sent a letter to then-US President Bill Clinton when he was forming his parameters to resolve the Israeli-Palestinian conflict, demanding not to leave out the "right of return." I don't remember HRW expressing support for the "right of return" of tens of millions of people who were banished from their homelands in the 1940s as part of the implementation of the right to self-determination and the mass population swaps which were a norm during those years. There is one rule for the world, and a different rule for Israel. This is how "rights organizations" are helping strengthen the Palestinian rejectionism and destroy the chance for a reconciliation and an agreement.

Two of HRW's three co-founders are Natan Sharansky and Robert Bernstein. Their plan was to create a body body that would defend human rights in non-democratic countries, but over the years Israel became the organization's main focus. Bernstein published an article in the New York Times in which he renounced the direction taken by the organization. As for Sharansky, this is not the organization he hoped for, either. HRW's key donor in recent years is George Soros, whose support is guaranteed to any organization hostile towards Israel.

We must also admit that there is nothing unique about HRW. The same thing happened to other bodies which were supposed to deal with human rights. It may be understandable when it happens to bodies like the United Nation's Human Rights Council, which have an automatic majority of dark countries, but organizations like HRW and Amnesty are supposed to be different. They are supposed to be active primarily in countries where there is no democracy, no self-criticism and no rule of law. But these bodies have turned into the long arm of the dark majority. Most of them support the "right of return" and are sympathetic towards Islamic terror. Amnesty employed Moazzam Begg, who is affiliated with the Taliban, and HRW hired the services of Shawan Jabarin, who is connected to the Popular Front for the Liberation of Palestine.

Nevertheless, banning entry is not the way to fight bodies with a clear anti-Israel agenda, because the only outcome is more headlines and more articles against Israel. It's true that France, the United States, Britain and Canada have lists of barred people, sometimes based exclusively on political views. But when it comes to Israel, every banned entry creates a wave of hostile reports which we could do without. The damage exceeds the benefit.

So what can be done? The simplest and most logical move: Preventing funding that originates from bodies supporting the BDS movement or denying Israel's right to exist as a Jewish and democratic state. A democratic state can and should give critical bodies full freedom of action, but there is a difference between bodies working to improve the situation and bodies serving the battle against the state's actual existence. There is no other state which allows foundations that act against its existence to fund organizations within the country. This absurdity must be stopped in Israel too.