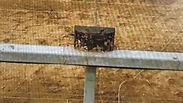 Explosive device
Photo: IDF
An IDF unit defused two explosive charges placed on the Gaza border fence on Tuesday, which were intended to explode as soldiers approached.
One of the devices was placed against the border fence in a restricted area near Shuja'iyya village. The other was placed at the southern part of the border fence.
The charges were defused and removed safely. No one was harmed.


Tensions near the strip have been increasing in recent weeks.
Less than two weeks ago, Israel Air Force fighter jets attacked five Hamas targets in the Gaza Strip in response to a rocket fired from the enclave that exploded in open area in the Sha'ar HaNegev Regional Council.
Earlier this month, a rocket exploded in Ashkelon beach after being fired from the Gaza Strip.
Shortly after that, IDF tanks and Air Force fighter jets destroyed two Hamas targets in Beit Lahia in the northern Gaza Strip, minutes after an Israeli force came under fire during routine operations near the border fence.