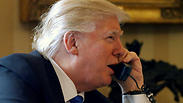 President Trump
Photo: Reuters
Trump to hold phone call with Abbas
For the first time since entering the White House, the US president is scheduled to hold a telephone conversation with the Palestinian Authority president; sending mixed signals about where he stands on the Israel-Palestinian conflict thus far, and despite staunchly pro-Israel declarations, the conversation may clarify where Trump stands on two states, and plans for future negotiations.
President Donald Trump will be holding a telephone call with Palestinian Authority President Mahmoud Abbas on Friday evening for the first time since being sworn into office one-and-a-half months ago.

The phone call is expected to take place at around 12pm (EST).

On several occasions during his presidential campaign, and after entering the White House, Trump has expressed his desire to achieve what he has described the "ultimate deal" between Israel and the Palestinians.

To that end, Trump will be sending his chief Israel affairs advisor Jason Greenblatt to the region next week, perhaps to lay the initial groundwork for future negotiations between the parties.

During Prime Minister Benjamin Netanyahu's visit to Washington last month, Trump said that he was assessing the possibility of a one state solution or a two state solution, depending on what the two sides could agree on.

However, he also told Netanyahu during their joint press conference that both sides would have to make compromises. "You know that, right?" he said as he turned to the Israeli premier and smiled.

Moreover, to the disappointment of many on the Israeli Right, who forecast a significant departure from past US policy against settlements in the West Bank with the election of Trump, the US president, who throughout his campaign claimed to be the most staunch supporter of the Jewish state, publicly asked Netanyahu to hold back on construction "for a little bit."

Since Trump's inauguration, Netanyahu has embraced Trump, extolling him as a strong supporter of Israel and has thanked him for his unwavering commitment to fighting anti-Semitism in the US.