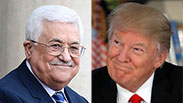 Abbas (L) and Trump
Photos: AP, AFP
Abbas petitions Trump for Palestinian state alongside Israel
US President Donald Trump talks to Palestinian President Mahmoud Abbas on Friday for the first time since taking office at the White House; Abbas spokesman says Trump invited Abbas to Washington, as he stressed his commitment to Israeli-Palestinian peace.
For the first time since he took office, US President Donald Trump hspoke on Friday with Palestinian President Mahmoud Abbas. According to Abbas Spokesman Nabil Abu Rudeineh, Abbas was invited by Trump to an officail Washington visit, to discuss possible ways to work toward peace with Israel.

The statement also reported that Trump reiterated to Abbas that he is committed to reigniting talks that would lead to real peace between Palestinians and Israelis. Abbas, for his part, stated that he, too, is committed to peace, as a strategic achievement in an overall effort to found a Palestinian state alongside Israel.

Prior to their conversation, Abbas spoke on the phone with Jordanian King Abdullah II to discuss recent developments in the region and specifically in regard to the peace process. Abbas also reportedly updated Abdullah on diplomatic moves he had recently carried out to reignite this process. Adullah responded by stating Jordan's support of any serious negotiation between the Palestinians and Israel that is based on a two-state solution, which he views as the only viable solution to the conflict.

Trump has repeatedly described brokering peace between the Palestinians and Israel as "the ultimate deal" and has stated his eagerness to achieve this. To this end, Trump advisor to Israel Jason Greenblatt is due to arrive in the region next week.

During Prime Minister Benjamin Netanyahu's visit to Washington last month, Trump stated that both Israel and the Palestinians will have to make certain concessions, while expressing his wish that Israel "pull back" on settlement development. When asked about a two-state or one-state solution to the conflict, Trump said, "I can live with either one. I thought for a while it looked like the two-state, looked like it may be the easier of the two, but honestly if Bibi and if the Palestinians if Israel and the Palestinians are happy, I'm happy with the one they like the best."