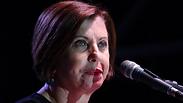 Zehava Galon
Photo: Motti Kimchi
Meretz Leader MK Zehava Galon decided over the weekend to move up the leadership primaries for her party by nearly two years and hopes to change to an open primary method from a limited one.

The left-wing party's current system has the leadership elected by a group of 1,000 electors from within the party. Galon wants to enfranchise all Meretz members for the primaries. Her reasoning is that Meretz has become "a private members' club."

"Even though I was elected the leader of Meretz for four years and only two have passed, I intend to put myself for reelection now," she said.

She expressed her intention "to work to expand, to present a diverse list with new audiences and represent the general public who believes in our values." She added, "Meretz needs a step that will lead to doubling its power so that it will influence how the Left will look in Israel."

Two days earlier, Bayit Yehudi Leader and Education Minister Naftali Bennett announced that his party's primaries will be moved up to mid-April.