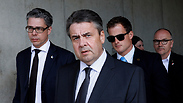 German FM Sigmar Gabriel. Did the Germans let a Turkish leader meet with Turks in Germany?
Photo: AFP
Have you met with Chelsea Manning, Herrr Minister?
Op-ed: Would the German government and press be okay with a foreign country's minister meeting with activists of an opposition group like Pegida? Has the German foreign minister met with organizations like Stop the War Coalition in the UK? The EU and European countries, however, fund many organizations that are working to demonize Israel. It's not criticism—it's demonization.
In March 2015, Prime Minister Benjamin Netanyahu defied the White House and addressed the US Congress. The speech was preceded by a heated public debate, both in Israel and in the United States, with most commentators opposing the speech. Netanyahu wanted to influence Congress to oppose the nuclear agreement that was taking shape with Iran. He offered legitimate arguments. The unnecessary provocation against the White House, however, was foolish. There are things that should not be done in relations between countries. The congressional address was wonderful, but it was also useless. It did more harm than good.

Let's continue. Only several weeks ago, high-ranking Turkish politicians sought to meet with members of the Turkish community in Germany and the Netherlands. Those two countries made it clear that they found the political meddling unacceptable. The Turks were furious. How could they be forbidden to hold meetings as they please? Where is democracy? Most commentators in Israel, as well as in Europe, supported the German stance enthusiastically, and rightfully so. There are things that must not be done. Politicians from a foreign country don't come to the host country to stir the political pot.

Nevertheless, when it comes to German Foreign Minister Sigmar Gabriel's meeting with representatives of radical left-wing groups in Israel, most commentators suddenly take an opposite stand. Most of those who opposed Netanyahu's Congress speech, and applauded the Germans for standing up to Turkish President Recep Tayyip Erdoğan, are taking a stand like robots in favor of the German foreign minister and against Netanyahu.

It isn't the same thing. This time it's much worse. Gabriel is insisting on meeting with radical left-wing organizations that serve the horrific anti-Israeli propaganda. Gabriel argues that every foreign leader visiting Germany is free to meet with such organizations. Excuse me?! Did the Germans let a Turkish leader meet with Turks in Germany? No, they didn't.

It's much worse than forbidding Turkish politicians from hold meetings. Would the German government and German press be okay with a foreign country's foreign minister meeting with activists of an opposition group like the far right Pegida organization, which opposes the government's immigration policy? We know the answer to that. The same applies to the Federation of Expellees (BdV), which is active in Germany for the rights of German refugees from Eastern and central European countries—somewhat similar to the organizations in favor of a Palestinian return to Israel. Has a leader from a foreign country dared to meet with representatives of such a body?

Has Gabriel met in the UK with bodies similar to the ones he met with here, like Stop the War Coalition? He has met with representatives or leaders of opposition parties. That's acceptable. He hasn't met with "civil society organizations." He hasn't met in the United States with Jess Cunningham or with Chelsea Manning, who exposed a series of war crimes committed by the US Army in Iraq, although it would be slightly difficult to meet with Manning, who was sentenced to 35 years in jail. Gabriel hasn't met in the US with organizations or bodies of that type either, and he definitely doesn't fund them.

Gabriel's arguments, therefore, are false. The issue of the meetings is just the tip of the iceberg, as the European Union and European countries—including Germany—are funding a series of bodies like al-Haq, Breaking the Silence, Coalition of Women for Peace and many others, with millions of shekels, while all or most of these organizations work to demonize Israel. It's not criticism, it's demonization.

Here's just one story about a Palestinian NGO named MIFTAH. In 2013, this organization published an article after US President Barack Obama hosted a Passover Seder. "Does Obama in fact know the relationship, for example, between 'Passover' and 'Christian blood' … ?! Or 'Passover' and 'Jewish blood rituals … ?!" the article wondered. "Much of the historical stories and tales about Jewish blood rituals in Europe are based on real rituals and are not false as they claim; the Jews used the blood of Christians in the Jewish Passover …" (Translated from Arabic by NGO Monitor). And this despicable organization, MIFTAH, received funding in the past from German foundations.

What would Germany's foreign minister say if Hungary funded Pegida? And what would the British foreign secretary say if Germany funded one of the anti-governmental organizations working for the withdrawal of British forces from Iraq or Afghanistan?

The claim that these are pro-peace organizations is false too. Europe is funding an Israeli NGO that promotes the return of Palestinian refugees—in other words, Israel's destruction. According to NGO Monitor's listings, more than NIS 3.5 million were transferred to that same NGO from 2012 to 2014 by "foreign entities—in other words, by foreign countries or foundations supported by foreign countries, practically all European. Germany is in the picture too. This is not the way to advance peace. This is the way to perpetuate the conflict, as well as to support the Palestinian illusion of destroying Israel through a "right of return."

Israel is, in any event, the most slandered country in the world. The government's policy can and should be criticized. It's okay to fight for an agreement and for an end to the occupation. That's legitimate. But Germany isn't funding pro-peace bodies—it is mainly funding bodies that are against an agreement of two states for two people, and/or bodies whose main banner is demonization.

Even without malicious intents, bodies like B'Tselem and Breaking the Silence have become part of the anti-Israel campaign. Is a body which spreads the claim that "IDF soldiers fire at Palestinians, with machine guns, on a regular basis, like in video games" a serious body or a body that spreads libel? These bodies are not advancing peace. They are advancing demonization. There is a huge demand for this stuff in the world, and there are those who are willing to pay for it—including Germany.

If this were just about a meeting with representatives of controversial bodies, Netanyahu's exaggerated reaction should have been questioned, but this is a much more serious issue. This is a disgrace which has been going on for years. As part of this disgraceful project, the EU and European countries—including Germany—have been funding bodies which are part of the BDS, or which provide justifications to Palestinian terror, or which are part of the propaganda system that denies Israel's right to exist or presents Israel as a monster.

The Germany of the past demonized the Jews. Today's Europe, which includes Germany, funds organizations that demonize the Jewish state. There is no anti-Semitic intent here. On the contrary, there is good will for a calmer Middle East. But most of the bodies that receive funding are against—against!—an outline for peace based on two states for two people. The funding isn't advancing peace. It is advancing demonization. There is no need to turn the other cheek.

(Translated and edited by Sandy Livak-Furmanski)