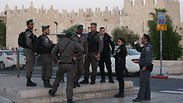 Scene of the attempted attack
Photo: Hillel Meir/TPS
16-year-old girl attempts stabbing in Old City
Police shoot the terrorist dead after she approaches them at the Damascus Gate in Jerusalem's Old City while brandishing a knife and shouting, 'Allahu akbar'; police say she was carrying a goodbye note to her family signed 'martyr'; no other injuries reported in the incident.
A female terrorist was shot dead by Israeli security forces on Sunday evening after she attempted to stab Israel policemen at the Damascus Gate in the Old City of Jerusalem.

The terrorist was identified by the Palestinian health ministry as 16-year-old Fatima Hjeiji from a town near Ramallah. Though she was treated at the scene by Zaka paramedics, she died from her injuries. No other people were injured in the incident.

According to police, while charging at the security personnel, she was shouting, "Allahu akbar." Police spokeswoman Luba Samri said a knife was recovered from the scene together with a farewell letter from the teenager to her family quoting a verse from the Koran that signed off with the word "shahida"—Arabic for "martyr."

On April 26, soldiers for the Golani Brigade's 51st Battalion thwarted a second attack in two days carried by cousins outside the Samaria Territorial Brigade's base on Wednesday.

The two cousins from the Balata camp near Nablus ran towards IDF troops stationed in the square outside the base while wielding a knife in the early afternoon of Wednesday and Tuesday.

Earlier the same day, IDF soldiers arrested a 24-year-old Palestinian woman at the Gilbert Junction in Hebron who approached them while brandishing a knife. She confessed in her questioning to planning to carry out a stabbing attack.