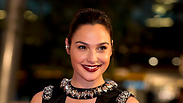 The Campaign to Boycott Supporters of Israel in Lebanon (CBSI) is continuing to work toward a boycott of the Hollywood film Wonder Woman, starring Israeli actress Gal Gadot. But at least for the time being, these attempts have been unsuccessful, and the film is due to be screened in theaters across Lebanon.

As Wonder Woman trailers reach critical mass and Gadot makes the rounds on daytime and late-night talk shows, ahead of the film's release in June, the Lebanese campaign published a second post on Sunday. In it, the campaign warned that since the film stars an Israeli actress, its screening is against Lebanese law. Lebanese movie theaters that had screened trailers for the movie were tagged in the post.

Gadot on Kelly and Ryan

The campaign against Wonder Woman began in April, when the movement sent a letter to the Bureau for the Boycott of Israel within Lebanon's Ministry of Economy and Trade. The letter noted that Gadot is the former beauty queen of Israel, who served in the IDF and publicly supported Operation Protective Edge in 2014. Since then, however, Lebanese filmmakers have promoted the film and called on the public to buy tickets in advance.






The Lebanese news network Al-Mayadeen, which is affiliated with Hezbollah, issued an article was published on the subject titled "An Israeli Assaults the Cinema in Beirut."

The Lebanese BDS movement opposes any expression of normalization with Israel. In April, it strongly came out against Belgian electronic music festival "Tommorowland", which this year is scheduled to be broadcast in eight countries simultaneously—including in Israel, Lebanon and Dubai—under the slogan "Creating bridges between the peoples of tomorrow."

In the meantime, Gadot continues to promote the film—both at press conferences and on television appearances. After the premiere in Los Angeles, she went to Mexico. A day before, she was interviewed for "Live With Kelly & Ryan" and told them that she threw out her back "at the worst time," just before the film was released.

"I tried to save the world one more time," laughed the 32-year-old star, who stood for the duration of the interview. The facilitator offered her muscle relaxation, to which Gadot jokingly replied: "A massage would be great."