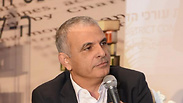 Minister of Finance Moshe Kahlon met the Palestinian Prime Minister Rami Hamdallah, Israeli officials said on Thursday, in a rare visit by an Israeli cabinet member to the West Bank as part of a US peace push.

Israel's security cabinet agreed just before US President Donald Trump's visit to Jerusalem and the West Bank May 22-23 on a series of measures aimed at building confidence in relations with the Palestinians.

Kahlon, who heads a center-right party in Prime Minister Netanyahu's governing coalition, went to Ramallah late on Wednesday to present the proposals to Hamdallah, the officials said.

The measures include opening the Allenby Bridge border crossing between the West Bank and Jordan 24 hours a day, an increased number of building permits for Palestinians living in Area C of the West Bank, and further development of industrial zones near the West Bank cities of Jenin and Hebron.

Under interim peace deals between Israel and the Palestinians, Area C—which comprises 60 percent of the West Bank—is territory in which Israel maintains full security and civil control.

The Palestinians have limited self rule in the rest of the West Bank, which they seek, along with east Jerusalem and the Gaza Strip, for a future state. Israel captured those territories five decades ago in the 1967 Six Day War after being attacked on all fronts by surrounding Arab nations.

A Palestinian government spokesperson had no immediate comment on Kahlon's visit.

An Israeli defense official said she believed it was the first time an Israeli cabinet minister had held an official meeting in Ramallah since 2014, the year US-brokered peace talks broke down.

"Civil-economic steps that Israel would promote with regard to the Palestinian Authority were presented at the meeting, following the visit of the US president," an official Israeli statement said.

Trump has vowed to push for a historic peace deal between the sides, though he has not presented any details on how he plans to revive negotiations.

On his visit to the region, he met separately with Netanyahu and Palestinian President Mahmoud Abbas.

Trump described both leaders as "reaching for peace". Many analysts, however, see little prospect of a breakthrough, citing years of deadlock over issues such as the status of Jerusalem and Israeli settlement building, as well as little diplomatic experience in the new US administration.