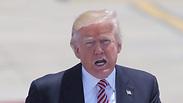 President Trump in Israel
Photo: Motti Kimchi
Upon his arrival in Israel on Monday, US President Donald Trump delivered a message of hope for peace, saying his meetings in Saudi Arabia with King Salman and other Arab leaders gave him "new reasons for hope."

"We have before us a rare opportunity to bring security and stability and peace to this region and its people, defeating terrorism and creating a future of harmony, prosperity and peace," Trump said.

"We must work together to build a future where the nations of the region are at peace, and all of our children can grow and grow up strong and grow up free from terrorism and violence."

US President Trump's speech (צילום: לע"מ)

He stressed that "we can only get there working together, there is no other way."

Trump concluded his brief speech by reaffirming "the unbreakable bond between the United States and the State of Israel," adding "We love Israel, we respect Israel... the people of the United States of America are with you."



President Trump landed in Israel midday to much fanfare at Ben-Gurion International Airport, where he was welcomed by Prime Minister Benjamin Netanyahu, President Reuven Rivlin, and other dignitaries.

Upon deplaning, the American president walked the red carpet and reviewed an honor guard. The IDF's band played the American national anthem followed by the Israeli one.

Prime Minister Benjamin Netanyahu expressed Israel's commitment to peace, listing as examples its long-lasting peace with Jordan and Egypt.

"Israel's hand is extended in peace to all our neighbors, including the Palestinians," Netanyahu declared. "The peace we seek is a genuine and durable, one in which the Jewish state is recognize, security remains in Israel's hands and the conflict ends once and for all."

The prime minister added that he looked forward to working with Trump in the future "to advance security, prosperity and peace. I'm confident that under your leadership the remarkable alliance between Israel and the United States will become ever greater, ever stronger."

Prime Minister Netanyahu's speech (צילום: לע"מ)

Speaking of Trump's speech in Saudi Arabia on Sunday, Netanyahu told the American president, "you delivered a forceful speech of clarity and conviction. You called on all nations to drive out terrorists and extremists. You called for the forces of civilization to confront the forces of barbarism.

"Mr. President, for 69 years, Israel has been doing precisely that. We've manned the front lines of civilization; we fought terrorism; and we've build a modern, vibrant, democratic, Jewish state."


In his own speech, President Rivlin focused on the bond between Israel and the United States.

"Your visit is a symbol of the unbreakable bond between Israel and America. You are the President of Israel's greatest, most important ally. You are a true friend of Israel, and of the Jewish people," Rivlin said.

President Rivlin's speech (צילום: לע"מ)

And while he thanked Trump for his "commitment to Israel's ability to face the threats of today and of tomorrow," the Israeli president made the point that while the world, the Middle East, and Israel all need a strong United States—"the United States also needs a strong Israel."

"In the Middle East—an area that suffers from terrorism and madness—the alliance between the United States and Israel shines like a beacon of liberty and progress," Rivlin explained.

"The bond between us is a bond between states, but also between people. We share common values, as we share the hope for peace," he added.

Rivlin also thanked Trump for recognizing the significance of Jerusalem to the Jewish people, adding "Jerusalem is the beating heart of the Jewish people: as it has been for 3000 years."

White House aides have tried to play down expectations for significant progress on the peace process during Trump's stop, casting it as more symbolic than substantive. US Secretary of State Rex Tillerson referred to the visit as "a moment in time" and suggested that the US would take a more active role in the future in brokering a deal if both sides make serious commitments.

Tillerson also told reporters that any three-way meeting between Trump, Netanyahu and Abbas was for "a later date."

Trump made one symbolic gesture Monday in bridging the gap between Israel and the Arab world. His flight on Air Force One was believed to be the first direct flight between Saudi Arabia and Israel, nations that do not have diplomatic relations. Netanyahu said he hoped an Israeli prime minister could soon make the same flight.

Israeli officials say they are largely in the dark about what ideas Trump might present for peace or what concessions he may demand. And while Netanyahu in the past has expressed support for the establishment of a Palestinian state, he has been vague about this goal since Trump gained power.

Meanwhile, Palestinians are calling for a "Day of Rage" when Trump visits the West Bank on Tuesday. The demonstrations are meant to draw attention to a month-long hunger strike by hundreds of prisoners being held by Israel and to protest what many Palestinians say is unfair US support for Israel.

Also attending the welcoming ceremony were Knesset Speaker Yuli Edelstein, Supreme Court Chief Justice Miriam Naor, Police Commissioner Roni Alsheikh, Shin Bet Director Nadav Argaman, Israel's Chief Rabbis Yitzhak Yosef and David Lau, and government ministers.

Many of the ministers initially did not want to attend the ceremony as they were insulted when they learned they would not get to shake President Trump's hand. After learning about this, an angery Prime Minister informed them they are required to attend.

Trump lands in Israel (צילום: לע"מ)

Education Minister Naftali Bennett told the president he expected him to be the first American president to recognize a united Jerusalem. Trump responded, "That's an idea," then turned to Prime Minister Netanyahu and repeated: "That's an idea!"

Meanwhile, Public Security Minister Gilad Erdan talked to Trump about a car accident that occurred in Tel Aviv less than an hour before the American president landed in Israel.

"You know, it's possible there was a terror attack in Tel Aviv today, we're still investigating," Erdan told Trump even after the police announced the incident was an accident.

Following the ceremony, President Trump and First Lady Melania headed to the President's Residence in Jerusalem to meet with President Rivlin.

From the President's Residence, Trump will head to the Old City for a private visit to the Church of the Holy Sepulchre. He will then visit the Western Wall, where he will be accompanied by Western Wall Rabbi Shmuel Rabinovitch and joined by wife Melania, daughter Ivanka and son-in-law Jared Kushner, without any Israeli government officials.

The entire Western Wall plaza will be closed off for Trump, who will be the first president to visit the holy site while in office.

Meanwhile, First Lady Melania will join Prime Minister Netanyahu's wife, Sara, on a visit to the Hadassah Medical Center in Jerusalem's Ein Karem. They will talk with the medical staff and meet with children in the play area for a joint artistic activity.

After the visit to the Western Wall, Trump will head to the fortified King David Hotel, where he will be staying during his visit.

He will meet in private with Prime Minister Netanyahu at the King David Hotel at around 6pm, following which their teams will join the meeting.

At 7:15pm, Trump, Netanyahu and their wives will travel to the Prime Minister's Residence for dinner, which will be cooked by Israeli chef Moshe Segev. Singer Shiri Maimon will perform two songs, one of them being the Frank Sinatra version of "New York, New York."

Following the dinner, the two leaders will give statements to the press but will not take questions.

Despite the warm welcome he received, Trump may face questions from Israeli officials about revelations that he disclosed sensitive Israeli intelligence to Russian officials and concerns over the new $110 billion arms deal he announced with the Saudis.

Tillerson, speaking to reporters on Air Force One, said the US could provide clarifications to Israel about what happened but said, "I don't know that there's anything to apologize for."

The Associated Press and Reuters contributed to this report.