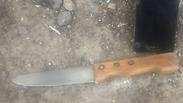 A Palestinian pulled out a knife and attempted to stab soldiers from the Home Front Command on Tuesday afternoon in the West Bank, the IDF has reported.

The soldiers were carrying out a routine check near Adam Square in Benjamin, north of Jerusalem. The soldiers managed to shoot their would-be attacker before he could stab anyone. The IDF declared his condition as critical at the scene and later stated that he had died from his injuries.




Friday night, Border Police officer Hadas Malka was stabbed to death in an attack at the Damascus Gate in Jerusalem's Old City.