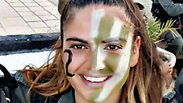 Slain soldier Hadas Malka laid to rest
Thousands of people including friends, family and government officials gather for the funeral of Hadas Malka, the border policewoman murdered in Friday's twin terror attack; Hadas' brother: 'We will never forget you as our hero sister who defended Jerusalem. Watch over us from above, we love you forever.'
Thousands of friends and family attended MSG. Hadas Malka's funeral Sunday, two days after she was murdered in a terror attack near the Damascus Gate in Jerusalem's Old City.

Officials who attended the funeral included Minister of Public Security Gilad Erdan, Police Commissioner Roni Alsheikh, Border Police Commissioner Yaakov Shabtai and other ministers and Knesset members.

Hadas Malka's funeral (צילום: דוברות המשטרה)

Hadas' brother, Guy, eulogized her, saying, "You had so many dreams, we wanted to see you get married. Get up, please say this is a dream. Say this isn't you. A damn terrorist ruined our dreams. We will never forget you as our hero sister who defended Jerusalem. Watch over us from above, we love you forever."

Commissioner Alsheikh also spoke at the funeral, praising her for her courage and determination to serve the country. "You fought for the border police out of a deep sense of mission and desire to contribute. Your friends have said that you are full of values and loved your country and its people," Alsheikh said. "They say that in addition to being a professional and a patriot you were a great sister to all the other fighters, always worrying about everyone's wellbeing, always smiling, always willing to lend a helping hand."

Turning to the attack itself which ended Hadas's life, Alsheikh said, "You fought against a terrorist who attacked you, but unfortunately, we are standing here today seeing the cost: a fresh grave and pain for your family, the border police, the Israel police and the entire nation. I call upon all Israeli citizens to remember you, not just as a fighter against terrorism, but also as a fighter in the police's war for Israeli society, a war which isn't always given its proper recognition."

Minister Erdan said of Hadas that her "memory will not fade from us. Her memory will be sealed in the heart of the entire nation. The sound of children's laughter was heard around the Shabbat table, even during this difficult Shabbat, because of Hadas and her friends who fight to protect our capital, the guardians of Israel in Jerusalem."

Speaking in an interview with Ynet, Superintendent Yossi Fitoussi, Hadas' commander, described his first encounter with Hadas during which he was quickly convinced of her abilities and dedication. "I was looking for a good and capable candidate. When she came into my office, she just radiated strength. Just as I expected, I was not wrong. She had great aspirations for life."

Hadas was critically wounded after being stabbed in Friday's twin terror attack in Jerusalem while trying to draw her weapon. She later succumbed to her wounds at Hadassah Mt. Scopus Hospital.