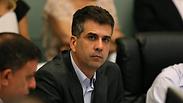 Eli Cohen
Photo: Dudi Vaknin
Economy Minister Eli Cohen has decided to postpone a series of relief measures to the Palestinians because the Palestinian Authority failed to officially condemn a terror attack Friday that claimed the life of Border Policewoman Hadas Malka.

Cohen also decided to cancel a meeting scheduled for Tuesday with his counterpart, Palestinian Economy Minister Abeer Odeh, which would have been the first meeting between the two.

Cohen's meeting with Odeh was to follow up on talks started by Finance Minister Moshe Kahlon with his Palestinian counterpart, PA Prime Minister Rami Hamdallah and several other Palestinian ministers.

During the meeting with Odeh, Cohen planned to announce to the Palestinian minister a series of relief measures, including: increasing import quotas, easing the process of stardards approval with the Standards Institution of Israel, easing the import and export of goods at the ports, and more.