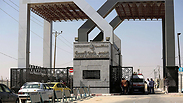 Rafah Border Crossing
Photo: AFP
Relations between Hamas and Egypt are growing warmer, as the Egyptians prepare for the opening of the Rafah Border Crossing this September, allowing free passage of Palestinian civilians from the Gaza Strip to Egypt and back.

Millions of dollars were invested in preparing the Rafah Crossing for its reopening in recent months.


Israeli security sources noted that the opening of the southern crossing and the deepening of Egyptian involvement in the Gaza Strip could have positive implications for the security situation along the border between the Gaza Strip and Israel.

Its opening may also go some way to alleviating feelings of isolation in the strip, which is currently creating unrest among its residents which some fear may eventually erupt into renewed violence against Israel.

The development follows Egypt's agreement to help Gaza with its electricity crisis and Hamas starting construction of a buffer zone at the border between Sinai and the Gaza Strip.

Egypt began to sell subsidized fuel to the Hamas-controlled Gaza Strip for the operation of its power plant and the private gas stations, which provided another hour of electricity per day to Gaza's residents. Hamas agreed to pay Egypt $10-15 million a month for its aid.

Last week, the Interior Ministry in the Gaza Strip began work to build a buffer zone between Gaza and Egypt in order to increase security in the border area and prevent the transfer of arms and passage of ISIS operatives from Sinai to the Gaza Strip and vice versa.

Israel is now closely following the agreements currently being discussed in Cairo between the Hamas delegation and the Egyptian security forces, especially concerning the opening of the border crossing.

The Rafah Crossing, which was transferred to the Palestinian Authority in 2005 after Israel's disengagement from the Gaza Strip, had security arrangements that allowed Israel to supervise those entering and leaving the Gaza Strip. The crossing was closed when Hamas came to power 10 years ago.

With the overthrow of Mubarak in Egypt, the Muslim Brotherhood regime in Egypt opened the crossing, but it was closed again, and has been closed most of the time since the rise of Abdel Fattah el-Sisi to power.