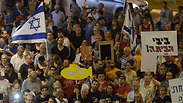 Hundreds at Petah Tikva protest, last Saturday
Photo: Yuval Chen
From a small Petah Tikva square to a nationwide protest
A 57-year-old aerospace engineer from Ramat Gan, a 100-percent disabled man from Nahariya, a midwife from the Soroka hospital in Be'er Sheva and a former Air Force pilot from Yavne are just some of the Israelis who have had enough of bottling up their criticism against governmental corruption and the attorney general's handling of the Netanyahu investigations. Instead of being discouraged by the arrests and clashes with the police, more and more citizens are leaving their comfort zone and taking their protest to the street.
It's a totally normal traffic circle, the kind of roundabout that is common in every city now. On one side of the roundabout, there is a new kind of commercial center. Not the old-fashioned local store and greengrocer, but a mini-mall which sanctifies consumption and squandering. All around, there are tall buildings with small gardens and people marching on running tracks dressed in branded workout clothes. And as you stand there and look around, you feel you've already seen the same neighborhood in other cities in Israel.

This very unexciting place, Goren Square in Petah Tikva's Kfar Ganim neighborhood, has generated an echoing protest in the past few months, which is slowly gaining momentum. Its participants are determined to give the Israeli society a civics lesson on the basic right to protest and to express an opinion that is not in line with the government's stand.

The weekly, adamant demonstration is directed at governmental corruption cases, focusing on the police investigations against Prime Minister Benjamin Netanyahu and on Attorney General Avichai Mandelblit's problematic conduct. The protest began here of all paces because of Mandelblit, who lives in the neighborhood.

The police have been trying to prevent this protest in almost every way. They have moved the demonstrators from place to place, beaten up protestors and detained some of them. That hasn't stopped them from showing up every Saturday evening at the same time, 8 pm.

In the meantime, the protest has spread from Petah Tikva to other places across Israel. Demonstrations began four weeks ago in the southern city of Be'er Sheva, opposite the Grand Canyon shopping mall. Protestor Tamir Hajaj reports that the police are not giving the protestors any trouble for now.

Another protest was launched in Nahariya three weeks ago, in the plaza facing the northern city's cannon fountain. Ze'ev Krauthammer, who is 100-percent disabled and has been active in the disabled Israelis' protest, was summoned to the police station for a warning after expressing his solidarity with the protest against government corruption on Facebook and announcing his plan to attend the Nahariya protest. Last Tuesday, while demonstrating with other disabled people in Jerusalem, he was beaten up by policemen who tried to stop him from marching with his friends. He won't give up, however, and isn't even considering lying around at home.

New protest groups are being organized in additional cities. Regular protests have been launched in Jerusalem, outside the prime minister's residence, at Tel Aviv's Rabin Square, Netanyahu and in Haifa. In addition to the Saturday evening demonstrations, individual protests are increasing in force too, with citizens standing almost every day in a different spot in Israel for several hours, holding a sign against the prime minister.
'It's good to rummage for our country'
Oren Simon arrives at Petah Tikva's Goren Square every evening and stands there with a sign for two hours. He does it five days a week, rests on Friday, and returns to the same place on Saturday evening for the weekly protest rally. He is a 57-year-old father of four from Ramat Gan, an aerospace engineer who specializes in artificial intelligence.

When the report on the expenses of the prime minister's different homes was published about a year ago, Simon delved into it. "I know how to read charts and numbers, and as I rummaged through the report, something didn't add up. The numbers didn't match the invoices," he says.

"I started a Facebook page called 'It's good to rummage for our country,' and began presenting figures from the report on water, electricity and soft drink expenses. At the time, Meni Naftali (former chief caretaker of the prime minister's residence) was in the middle of his trial against the Prime Minister's Office, and after it ended, he announced in December that he was going to protest outside Mandelblit's home until he decides whether to prosecute Sara Netanyahu or not. The police had already completed their investigation and submitted a recommendation to charge her with three offenses. In addition, he demanded that Mandelblit make a decision on the investigations against Netanyahu and stop drawing out the process.

"At first, I followed the demonstrations in Petah Tikva on Facebook from home, but on January 16 I came here for the first time after Naftali was arrested. I read a post written by a guy named Yair Sadka, who wrote that he was going to stand here for two hours each day, and I joined him."

In the first few weeks of the Petah Tikva protest, there were about 20 of them, people over the age of 55. They met every Saturday evening, even when it rained. On good Saturdays, 30 people arrived, and it was considered a major success. They began outside Mandelblit's house on Meisner Street, but after three weeks the police asked them to move to the Eshkol Pais community center, 70 meters away. Two weeks later, they were asked to move to a nearby garden, located 120 meters from the house. They protested there for three months before being moved to the Goren Square.

Since joining the protest, Simon has been arrested twice. On January 28, the police declared the demonstration an illegal gathering, and Simon says he asked his friends to leave, but was assaulted by a policeman before he managed to leave himself. "He twisted my hand backwards, cuffed both my hands and pushed me into a police car. Seven other people were arrested too, all adults. None of us had been rioting. I spent the night at the Petah Tikva police station, and the next day I was brought before a judge who ordered me to stay away from Petah Tikva for two weeks."

Do you ask for a permit for your protests?

"No. Do you ask for a permit to breathe? Well, we don't ask for a permit to protest. It's a basic democratic right. We don't march and don't deliver political speeches. You won't hear anyone here talk about the situation with the Palestinians, only about the corruption."

The media barely covered the protests in Petah Tikva at first, apart from reporting the arrests. The small number of protestors made the event irrelevant. But beneath the mainstream media, the Petah Tikva protest gained momentum on social media. The police's aggressive conducted also helped position the protest as a battle for Israeli democracy, not just as a battle against corruption.

On May 20, the police arrived at Goren Square with a reinforcement of Yasam (the Israel Police's Special Patrol Unit) forces and Border Guard fighters. Two days earlier, Justice Minister Ayelet Shaked called on the police to ban protests outside the homes of senior legal and law enforcement officials. The fact that several hundred meters separate between Goren Square and Mandelblit's home didn't stop the police from forcibly dispersing the crowd.

"The Border Guard went wild here," says Simon. "Three of our guys ended up in the emergency room that night. A 65-year-old woman was pushed on the floor and beaten up by Border Guard policewomen. Another protestor was kicked in the back and suffered from a slipped disc as a result. Meni Naftali's hand was broken. And surprisingly, not a single police officer was hurt. I got hit in my ribs with an M-16 buttstock. There were about 40 of us here and we were all beaten up, and 10 of us were arrested, including Naftali.

"The next day I was still traumatized by the beating and didn't drive to Goren Square for my daily routine of standing there. I got a phone call from an officer in the Petah Tikva police station, who told me that it was forbidden to protest in the city. I asked him what about individual protests, and he didn't answer, just kept reiterating that it was forbidden to protest in Petah Tikva.

"I barely slept that night. I could let go of the thought of 'who do they think they are that they will arrest me, break me? What right do they have to forbid me to stand with a sign?' I got up, determined to go to Goren Square that day. We already had signs ready with a quote from the Book of Isaiah, chapter 1: 'This faithful town has become a prostitute… Your princes are rebels, companions of thieves. Everyone loves a bribe and pursues gifts.' In the late afternoon hours, I wrote a post saying that I was going to the city square to give a history lesson, and that the public was invited to join me. All I came with was the sign with the quote from Isaiah.

"Half an hour after I arrived, a police car showed up. They asked me to leave and I refused. I was standing with a sign containing a quote from the Bible. What's wrong with that? They gave me five minutes to pack up, and when I failed to leave they informed me that I was being detained and took me down to the station. (US President Donald) Trump was in Israel that evening, and half the station had been sent to Jerusalem to reinforce the police there. They dealt with me for hours with their diluted forces in Petah Tikva, including two hours of driving to the Hadarim Prison, where I spent the night."

The next day, he was released in court and banned from entering Petah Tikva for two weeks again. At the end of the restraining period, Simon returned to Goren Square. Following his arrest, his friends decided to print the biblical quote from the Book of Isaiah on T-shirts. Hundreds have already been sold and news ones have been ordered.
Solidarity with the disabled people's protest
Before meeting with Simon in Petah Tikva, we sat down with Nahariya residents Ron Altman and Ze'ev Krauthammer in the northern city. Altman, 62, is a father of two who volunteers with the police. He has no financial problems. Krauthammer, 32, is 100 percent disabled and unemployed.

The Nahariya protest was initiated by Altman. "I'm a person with social awareness. I participated in several protests against the gas plan in Haifa and in Tel Aviv, and I also took part in the protest against the beach-front construction plan in Achziv. I have been following the Petah Tikva protest from afar and identifying with its goals. As a police volunteer, it hurts me to see people being handcuffed for voicing an opinion. They haven't stolen anything and haven't robbed anyone, and it's a basic right to express an opinion. I never traveled to Petah Tikva because it's too far.

"A couple of Saturdays ago, I made a few phone calls to social activists I know here in the Western Galilee area. The Petah Tikva guys created an Facebook event for us. We prepared anti-corruption signs and arrived at the city's entrance at 7:30 pm. There were about 25 of us. At some point, a policeman I know from the station showed up and asked us what we were doing. I replied that we were holding a small protest against corruption and in favor of democracy, like the one in Petah Tikva. We weren't standing with signs against Bibi or Mandelblit. The policeman said we weren't allowed to protest with a permit, and I replied that I was aware of the law and that up to 49 people were allowed to stand and express their opinion without asking the police for a permit.

"That same evening, I got a phone call from the woman responsible for the station's volunteers, who said: 'Why are you protesting? You're not allowed to. You're a police volunteer.' She thought it was a protest against Bibi and against the police, and I explained to her that it was simply against corruption and in favor of democracy. I thought it was a non-issue, and during the week I arrived at the station for two patrol shifts.

"On Thursday, I sent the station's patrol officer an announcement about the protest planned for Saturday evening. I wanted him to know about it in advance, so that he wouldn't be surprised. The next morning, on Friday, he called me and said I wasn't allowed to take part in the protest because of my volunteer work with the police. I realized that the police were uncomfortable with my participation in the protest, and I don't want to stop volunteering."

Altman showed up for the second protest, but didn't stand with everyone else. He kept a safety distance and watched them from the side. Krauthammer says the second demonstration in his city made him realize that the protestors were serious, and he decided to join them.

"In the past two years, I have been very active in the disabled people's protest to raise disability allowances to the level of minimum wage. I was present in all protests and was beaten up by policemen both in Jerusalem and in Tel Aviv. I witnessed surreal things: A policeman snatching a megaphone from a disabled man's hand and smashing it on the road; police trying to drag a disabled man by the legs and pulling out his prostheses because both his legs had been amputated. They brought Yasam and Boder Guard forces to our protest in front of the Azrieli Center in Tel Aviv. And we are disabled. Most of us are in wheelchairs."

Have you been to the Petah Tikva protests?

"Once, at the same evening of the first protest in Nahariya. It found it important to go to the center of this protest to feel I was taking was active part of it. The way I see it, the anti-corruption protest is as important as our disabled people's protest."

Several weeks ago, on a Thursday, Krauthammer shared an invitation on Facebook to a demonstration that would be held at the entrance to Nahariya on Saturday evening. He wrote that he had managed to get an amplification system and that the only thing missing was a generator.

"The next morning, I got a message from a guy I didn't know on Facebook, who asked me what the protest was about. He wrote that he wanted to talk to me. When I called, he said he was a policeman and told me that there had been no permit for Saturday evening's protest, and that we must get a permit for the upcoming protest or the police would not allow it. He summoned me to the station, where I was questioned by the intelligence coordinator and the person in charge of public order, who kept trying to get me to say that I was the protest's organizer. He said that if they managed to prove that I was the organizer, criminal's proceedings would be launched against me, including arrests. I told him that I had consulted Meni Naftali and his lawyer, who told me that there was no need for a permit for a protest of less than 50 people. One of the policemen said in response, 'Tell Meni Naftali and tell Meni Naftali's lawyer that you will be the one who will pay for it, not them. They won't help you.' He made it clear that he had done his homework and that he knew I had participated in many protests."

Did you go to the protest in the end?

"I came with a T-shirt of the disabled people's protest," Krauthammer replies. "I decided to give up the amplification system in order to keep a low profile and avoid being arrested. I understood that some of the city's residents were afraid to come to the protest because I had been threatened, and I didn't want to turn the event into a clash. I just stood there and didn't chant anything."

"I stood on the side and saw everything," says Altman. "There were maybe 30 people there, and they were faced by three police cars."
'20 old people, 40 police officers'
The protest's southern branch began its own activity at the same time, meeting every Saturday evening at 8 pm in front of the Grand Canyon shopping mall in Be'er Sheva.

Simcha Latman, 64, a midwife at the Soroka Medical Center, a mother of four and grandmother of six, was one of the first protestors in Petah Tikva. She started off with Naftali on the first week after seeing his Facebook page. She entered the address into Waze and drove there. But she lives in the southern town of Meitar, and driving to Petah Tikva isn't easy.

Tamir Hajaj, 48, who manages an aluminum factory and is a public activist with many battles behind him, used to travel to Petah Tikva too from Be'er Sheva. "But then a guy from Be'er Sheva called Amit Salomon said: 'Why only Petah Tikva? Let's protest in Be'er Sheva too, in the Likud stronghold.' And we said, 'Why not? That's a great idea.' That was a month ago, and since then we have been coming every Saturday evening, about 30 people. Last Saturday evening, we were faced by demonstrators who are against our protest. I identified them as extreme right-wing activists. One of them threatened to stab one of the guys standing with us, and we called the police."

Are the police giving you a hard time?

"Not at all," says Latman. "They let people live here. They're only giving us trouble in Petah Tikva. There were Saturdays in Petah Tikva in which we were 20 old people surrounded by 40 police officers. It was insane."

"But it's transparent," says Hajaj. "The police have been ordered to oppress this protest. All the arrests and the beating up are aimed at discouraging people from joining us. They see the Border Guard arrive with assault rifles and say to themselves, 'We identify with the protest but we don't want to get into trouble.' It's the oppression, and it works to create deterrence and sow fear. After all, we are not here to hurt anyone physically, Heaven forbid. Our only demand is that Mandelblit do his job, that he work for the Israeli public rather than for the prime minister."

"It's not a political protest either," says Latman. "We have Likud voters too who have had enough of Bibi, of the fact that there are so many corruption investigations against him. Tamir, in his political views, is in the right too. So what? Even members of the Likud Central Committee, who say they are fed up with Bibi, have come to Petah Tikva to protest in recent months. They say there is no trace of the Likud they grew up on."

Does your workplace know that you are active in the protest?

"They already know me and they say I'm crazy and looking for trouble," says Hajaj.

"I'm abominable," Latman says. "A senior hospital worker told me that seeing me at the protests isn't good for my work as a midwife. I replied that at the hospital I'm a midwife, but as soon as I take off my nurse uniform and walk out of the hospital gate, I'm a citizen for all intents and purposes. People call me a radical leftist, and I'm nothing like that."

On a recent Tuesday afternoon, Latman joined Meni Naftali and a group of friends from the Petah Tikva protest and went up to Jerusalem to demonstrate with the disabled people. She returned home satisfied by the growing solidarity between the groups of protestors. Krauthammer sounded tired and exhausted at the end of the protest. "I was beaten up a little, but I knew it would happen."

The following Friday, Latman showed up at the Big Center in Be'er Sheva with a protest sign, as she has been doing every Friday in the past six months. She stood there till 12 pm together with four or five other protestors, carrying signs reading "Bibi go home" and "It ain't over till you resign."

'Scattering petrol fumes in the air'

One of the leaders of the individual protests taking place across the country is 63-year-old Brigadier-General (res.) Amir Haskel of Yavne. He served as a transport pilot who commanded two squadrons and two Israel Air Force bases and ended his service as head of the IAF's Manpower Group before retiring.

"Since the last elections, I can't relax," he says. "We have no vision, no direction, the Knesset is full of anti-democratic legislation, the prime minister is sowing fear and incitement. Just talking about it turns my stomach.

"Last October, while on Facebook, I found myself in the page of a Jew called David Feldstein, who was standing and protesting on his own in front of the government compound in Jerusalem, calling for Netanyahu's resignation due to the tunnel failure in Operation Protective Edge. Curious, I picked up the phone and called him. I told him that if the protest was just about the tunnels, it was a non-issue, that there were more important reasons to demand Netanyahu's resignation.

"We decided that I would come to Jerusalem to talk to him outside the Prime Minister's Office, where he stands every week. I went up there on October 6, the anniversary of the Yom Kippur War, and on my way, on the radio, I heard Moti Ashkenazi who had protested outside the Knesset after that war against (Prime Minister) Golda (Meir) and (Defense Minister Moshe) Dayan. I felt I had to do it.

"I reached Feldstein and said to him, 'We have a prime minister here who has been in power for 10 years now, and all these years he hasn't made a single significant decision, the kind of decision you would expect a prime minister to make. He has failed in all leadership parameters. He isn't leading, he isn't setting goals, he isn't outlining a vision.' We realized, Feldstein and I, that we both view the situation the same way, and we decided that I would join him. On October 9, I went up to Jerusalem for my first protest."

On Mondays, they stand outside the Knesset. During the hiatus, they go to Tel Aviv or move to the Prime Minister's Office. For months, they stood there on their own. Today, there are sometimes five of them. The first person to come out of his house with a sign and protest alone, Haskel says, was Yoram Tzelner of Moshav Herut in the Sharon region. "From June 2016, he has been standing on Highway 4 for two hours every Friday, with a sign calling on Bibi to resign." He was followed by Feldstein and others. For example, a group called Talma's Friends, which stands every Friday at the Tel Hashomer or Savyon junctions. Most of them hold a sign reading, "On the right and on the left, Netanyahu is a disaster."

Today, the protestors can be found on intersections and along roads in the Bilu Junction, in Kfar Tabor, at the Me'ona Junction near Kfar Vradim, at the Yesud Ha'maalah Junction, at the Kabri Junction, in Shefayim, in several placed in Herzliya, at the Glilot Junction, on the corner of Ibn Gabirol and Rokach streets in Tel Aviv, in Ness Ziona, and in many other places across the country.

"Occasionally, we team up for joint activity," says Haskel. "In March, for example, we stood in each of the junctions on Tel Aviv's Ibn Gabirol Street, and there are 22 of those. I counted them myself. When the Knesset is in hiatus, I stand on the Kaplan-Begin intersection opposite the Azrieli mall, where there is huge traffic. All the individual protestors are active on Facebook and post pictures. We have a page called 'The Individuals' Protest,' and there are always updates there on where people are standing."

Still, most of the public is indifferent to this protest.

"Because people are stuck in their bubble. They care about surviving, economic welfare, personal achievements. These are important things, but our society and our country are important too. We are talking about one hour a week. Take just one hour and go out to the most convenient junction, whenever it's most convenient for you."

What do your friends from the Air Force say?

"They're all supportive, they really appreciate what I'm doing, but they all stay home. I'm the village lunatic. I already have 200 hours on the street and hundreds of working hours on Facebook. My goal and the goal of the rest of the people is to create a quiet mass protest. We don't need hundreds of thousands of people. Several thousand are enough to man all the main junctions across the country, without any mess. And I'm not naïve. That alone won't bring the change. But we are scattering petrol fumes in the air and waiting for an event that will light them up. Such an event can be an attorney general's decision to indict Netanyahu. The moment that happens, we'll be at the junctions and the Petah Tikva protest will be the basis for the outburst of the entire public's protest."

In recent weeks, hundreds of protestors have started flocking to Goren Square every Saturday evening. Two weeks ago, there were already 1,000 people there. Yossi Dorfman, a strategic advisor and one of the leaders of the battle against the gas plan, says that the more the police try to oppress a protest, the more it grows.

"When we were small in the gas battle, the police went against us. They tried to stop us from protesting. There were clashes with the police and arrests, and it prompted thousands of people to join us. That's the practice of the protest: The government tries to minimize it, and the actual attempt only intensifies the protest."

About two weeks ago, Altman was summoned by the Nahariya police station commander, who told him there was no problem for him to remain a public activist and even take part in the Petah Tikva protest, but "in Nahariya he asked me to keep a low profile."
Israel Police: No excessive use of force
The Israel Police offered the following response to the claims raised in the article: "For seven months now, a noisy protest has been taking place every Saturday evening near the attorney general's home in the heart of a quiet neighborhood in Petah Tikva. During the first two months, the police allowed the protest to demonstrate several meters away from the house. When the protestors began using whistles, megaphones and percussion instruments, causing a lot of noise, and in light of many complaints from the neighbors, the police were forced to move the protestors to Goren Square, which is located about 400 meters from the attorney general's home.

"During the demonstrations that followed, a handful of protestors decided to disobey the police's orders and move towards the attorney general's house. When the police stopped them, some of the protestors refused to retrace their steps and return to the area of the square, and were therefore detained for questioning on suspicion of an illegal gathering, making noise, public nuisance and obstructing a police officer in the execution of his duty. The police were forced to arrest anyone who refused the detention orders.

"We reject any claim of excessive use of force by the police. The many videos distributed on social media by the protestors themselves prove that there was no excessive use of force at any stage. Just to be clear, in all cases in which the detained protestors were brought to court after refusing to accept the police terms, the court accepted the restraining conditions set by the Israel Police and ordered the protestors to stay away from the attorney general's home or from Petah Tikva in general.

"It should be noted that in recent weeks, after the Supreme Court said its piece and banned protest outside the attorney general's home, a protest has been taking place without any disturbances at Goren Square, without any exceptions and without any police intervention.

"As for Mr. Ze'ev Krauthammer, following the citizen's posts on the social network on the backdrop of an illegal protest that was held in the same place a week earlier, which disturbed the people using the road and disrupted public order, the citizen was asked to report to the police for a clarification and warning. In spite of the warning, the citizen violated the law and protested at the place with other citizens without a lawful permit from the police.

"As for Mr. Ron Altman, in light of his participation in an illegal protest while serving in a law enforcement body, he was summoned to a conversation in which it was made clear to him that he must exercise discretion to avoid a conflict of interest in the future and balance between his rights as a citizen and his duties as a volunteer in uniform. Mr. Altman remains am active volunteer in the Israel Police.

"Any attempt to present the police's prevention measures, which are aimed at guaranteeing obedience to the law, as a type of 'threat' is a distortion of the truth and of the essence of the police's job as a law enforcement body. The Israel Police will keep allowing freedom of speech and protest, as long as it is lawfully approved and does not harm public peace and safety."