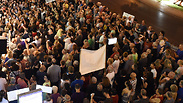 Citizens protest AG's conduct in Netanyahu's investigations
Photo: Yuval Hen
Hundreds of demonstrators protested on Saturday in Petah Tikva near the home of Attorney General Avichai Mandelblit, for his hesitant and slow conduct, according to their claims, in the investigations of Prime Minister Benjamin Netanyahu.

This is the 32nd demonstration in a row on this issue, with protestors gathering every Saturday near the AG's home. Similar demonstrations are being held this evening in several locations around the country.


The demonstrators were heard shouting "government of the corrupt" and "Netanyahu resign!," waving posters reading "free us from corruption," "Family Advisor to the Government," and "Netanyahu is a disaster."

One of the demonstrators, Aliza Hershkowitz, said, "I am a grandmother and I decided that I would not sit still as long as I see the corruption around us. I work in education and think that this is not the education I want to convey to my children and grandchildren.

"If there is such corruption, then you have to go out into the streets and educate everyone on democracy. The number of demonstrators has grown and we feel that we are doing something instead of sitting at home and complaining.

"Netanyahu divides our country and the wonderful people, and now everyone has is fighting each other. That's how the worst leaders in history acted."

Another demonstrator, Yehezkel Baghdadi, said, "I have been demonstrating here since day one, driving around with a sign on my car that says 'Bibi (Netanyahu) the Prime Minister of Thieves'.

"If (Opposition leader Isaac) Herzog did what Bibi did, a million people would have come out to the streets. Bibi would call on the people and they would kick Herzog out, but here the left is filled with bleeding heart liberals.

"Bibi destroyed this country, destroyed the pensions. The cost of housing and food is too expensive. We will slowly bring the people out (to the streets), we will multiply and become thousands."

At first the demonstrations against Mandelblit took place in front of the AG's house, but the protesters were removed from the vicinity by police and in recent weeks they demonstrated in Goren Square.

The demonstration took place without a permit from police, but the police allowed it to take place as long as the peace was maintained, sending officers to ensure it on each and every Saturday.

Last week, Mandelblit spoke about the PM's investigations and said that the police should be allowed to carry out their work.

"I am aware of the importance of completing the investigation within a short period of time, but alongside the importance of acting quickly, it is important to clarify the suspicions in the best possible manner and to collect evidence in a proper and professional manner," Mandelblit said.

The AG noted that "the investigation is proceeding with great vigor," adding that "as soon as the investigation is over, we will make a decision."