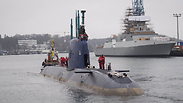 INS Rahav
Photo: IDF Spokesperson
Germany has announced it will be postponing the signing of a memorandum of understanding (MoU) for the sale of three submarines to Israel, scheduled for next week, in light of an ongoing investigation into allegations of corruption in the deal.

The MoU was supposed to have been signed by the Israeli ambassador to Germany, Yakov Hadas-Handelsman, but for the time bieng the event has been postponed to an unknown date.

The announcement is a dramatic development in the affair, which could eventually lead to the cancellation of the huge deal between the two countries.

Due to this concern, Defense Ministry Director-General Udi Adam recently flew to Germany for a meeting with his German counterpart in order salavage the deal and to prevent its total nullification.

Israeli sources were quick to highlight that the announcement was merely a postponement of the signing rather than an outright cancellation of the deal. They also expressed hopes that the investigation would be brought to a swift end in order to avoid completely sabotaging the deal.

The cancellation of the signing is made possible due to a clause in the agreement between Germany and Israel that allows the Germans to unilaterally withdraw from it if it is proven that the deal was achieved through bribery and corruption.

The total cost of the agreement reached with the German corporation ThyssenKrupp is about 1.5 billion euros, and Germany is supposed to finance about one-third of this cost.

The submarines in question are supposed to replace, within a decade, older submarine models operated by the Navy when they are no longer in use.