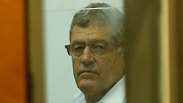 Miki Ganor
Photo: Yariv Katz
Miki Ganor, a representative of ThyssenKrupp in Israel who is at the center of the submarine probe and is suspected of a series of criminal offences, is negotiating terms to become state witness, causing his defense attorney Nati Simhoni to resign.

Ganor is suspected of fraud, money laundering and conspiracy to commit a criminal offence.

Last week senior officials were arrested and interrogated—among them Netanyahu's confidant and personal lawyer David Shimron, former Navy commander Maj. Gen. (res.) Eliezer Marom and former Israeli National Security Council (NSC) senior member Brig.-Gen. (ret.) Avriel Bar-Yosef.

According to suspicions, deals for the purchase of vessels and submarines included large sums of money illegally transferred to private pockets as bribes.

Shimron has already been released from house arrest and took off for a private vacation abroad. Marom's detention ended Saturday night, and he was also released without restrictions. Ganor's right-hand man, attorney Ronen Shemer, was released to two weeks of house arrest.

As of now, only two detainees remain in the hands of the police: Ganor and Bar-Yosef.

On Thursday evening, Prime Minister Benjamin Netanyahu commented on Ganor's arrest, saying "I do not know who he is," he said. "I have never met him."