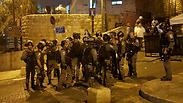 Riots sparked once again on Sunday evening between Israeli security forces and incensed Muslim worshipers at Lions' Gate as protestors exhibited their fierce opposition to Israel's installation of metal detectors around the Temple Mount.

Hostilities kicked off at the conclusion of prayers, prompting police to respond with riot dispersal techniques, employing an array of methods including the launching of stun grenades as the inflamed crowds screamed at the security forces.

Clashes at Lions' Gate (צילום: גיל יוחנן)

"The police won't surprise us. We will continue to be here until death, even if you shoot us," the demonstrators yelled.

According to the police, dozens of Israeli Arabs began demonstrating on a bridge on Route 444 and began throwing tyres. By the time they had been moved on, an 18-year-old resident of Tayibe had been arrested.

Speaking in an interview with Ynet, Public Security Minister Gilad Erdan claimed there were no objections from the Shin Bet and IDF to keeping the metal detectors at the entrance to the Temple Mount amid reports to the contrary.

"The prime minister has asked to significantly increase security arrangements on the Mount, and a proposal was made to use metal detectors, something that has been brought up in the past. None of the (defense) officials objected to that proposal, no one spoke of possible opposition or violence because of the metal detectors," Erdan told Ynet.

After Israel decided Friday to keep the metal detectors in place, Palestinian President Mahmoud Abbas declared a freeze on all relations with Israel.

"Relations with Israel will be frozen at all levels until Israel commits itself to canceling all its steps against the Palestinian people as a whole and against the city of Jerusalem and the Al-Aqsa Mosque in particular, and to committing itself to preserving the historical and legal situation in Al-Aqsa," he said in his statement.