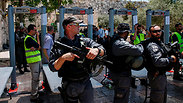 Temple Mount metal detectors
Photo: AFP
Prime Minister Benjamin Netanyahu sought to justify Sunday evening the new security measures—including the installation of metal detectors—at the Lions' Gate and the Council Gate at the entrance to the Temple Mount following Friday's deadly attack, in which two policemen were killed.

Amid mounting tensions in the Arab sector and condemnation from Arab states for Israel's decision to temporarily close Al-Aqsa mosque, Netanyahu sought to mollify the critics, urging them to be more understanding of the measures thus far undertaken.

"I understand there is friction on the matter of metal detectors," said the prime minister, explaining that the cultural strain which they imposed were justified since "we can find ourselves in another such attack, and these means are required, as well as the cameras that we intend to place on the masts outside the Temple Mount."

Despite being let into the Temple Mount complex without being required to go through metal detectors, the heads of the Jerusalem Islamic Waqf, who arrived at the Gate of the Tribes at around 12:30pm, came back outside and adamantly refused to be subjected to a security check.

Calling on worshipers not to enter the complex, the Waqf officials organized a protest prayer outside the entrance to the Temple Mount as some of the protesters called out "In spirit and in blood we will save you, Al-Aqsa."

Despite this, hundreds of Muslim worshipers entered the complex on Sunday while Jewish visitors were not permitted to step foot in the holy site that day.

On Sunday evening, a police force dispersed three young Jewish women who had arrived at the Gate of the Tribes, as well as Arabs who had gathered there, fearing that tesnsions could escalate into physical clashes. During the dispersal, a Palestinian man was arrested after assaulting the policemen.

Moran Azulay, Hassan Shaalan, Elior Levy and Yael Freidson contributed to this article.