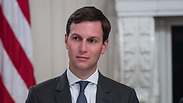 Jared Kushner—US President Trump's son-in-law and senior advisor—is leading American efforts at deescalating the Temple Mount crisis surrounding the installation of metal detectors, according to a senior administration official on Sunday.

The official said that Kushner is working with Israel, the Palestinians and Jordan in an effort to solve the current calamity together with Trump emissary Jason Greenblatt and Ambassador David Friedman.

Greenblatt is expected to arrive in Israel on Monday to hold talks between Israel and the Palestinians and Jordanians.

Prime Minister Benjamin Netanyahu also met with Ambassador Friedman on Sunday to discuss ways to ease tensions.

According to the same administration official, Kusher and Netanyahu spoke last Wednesday during the latter's visit to Hungary in an attempt to formulate a plan to end the crisis.

Similarly, Kusher also spoke with Palestinian President Mahmoud Abbas last Thursday, apparently before the Israeli decision to leave the metal detectors at the entrance to the Temple Mount.

CNN reported that Israel, the Palestinian Authority and Jordan refused to give details on discussions, but noted that there was direct contact with the White House to bring about calm in the region.

Despite increasing international efforts to ease tensions, Palestinian protestors continued to clash with Israeli security forces Sunday evening, with many vowing to continue the fight "until death, even if they shoot us."