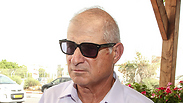 Attorney David Shimron
Photo: Yariv Katz
Businessman Miki Ganor, the Israeli representative of German conglomerate ThyssenKrupp who became a state witness, reportedly has sensitive information that implicates attorney David Shimron in the submarines affair, according to inside sources.

"It could send off shockwaves on a national scale, the kind of which has never been seen in Israel," one law enforcement source said.

The police is investigating corruption suspicions surrounding the procurement of submarines and patrol ships for Israel's Navy from ThyssenKrupp.

Shimron, a relative and close confidant of Prime Minister Benjamin Netanyahu, represented Ganor in his dealings with ThyssenKrupp, and is considered one of the main suspects in the case. He has been questioned under caution several times and was put on house arrest.

According to the inside sources, Shimron's role in the affair is larger than has been reported so far.

Shimron has been allowed to leave the country for a family vacation. He will reportedly be detained upon his return to Israel and confronted with Ganor, who has already provided police with seemingly problematic information about the lawyer's role.

Ganor, who agreed to cooperate with the police and the prosecution in return for only a year in prison and a hefty fine, claimed Shimron was a partner in some of his business dealings.

Shimron, who is currently in the US, gave an interview to Channel 2 News, denying this claim.

"An ocean of nonsense is being reported, and I obviously can't address each and every claim, because I don't want to obstruct (the investigation) in any way, but the amount of baseless reports is enormous," Shimron said.

"In the wake of the circumstances coming to light now, Miki Ganor is saying he is an arch-criminal," he asserted. "I didn't know this. On the contrary, I had the impression all this time I was dealing with a serious and honest man, a respectable businessman who behaves ethically."

Shimron insisted Prime Minister Netanyahu did not know of his business ties with Ganor. "Of course he hasn't heard even a word about it from me, and he shouldn't have had to. But I don't want to get into it. I'm simply not allowed, I'm forbidden to talk about it as a citizen and as a man under investigation," he said.

Shimron stated he was at the service of police at any time, seeming confident about the results of the investigation. "To the crux of the matter, I'm not worried. I'm worried about the process, but I'm not worried as far as I'm concerned from the end result," he said.

Shimron went on to say he preferred the police investigation over "an incessant and unprofessional crucifixion in the media when you can't comment... In a fair, serious investigation, you can bring the truth, and eventually in the great majority of cases the truth is what matters."