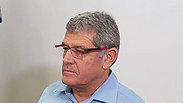 Michael Ganor
Photo: Raanan Ben Zur
Michael Ganor, a representative of German ship manufacturer ThyssenKrupp, who is considered the main suspect in the submarine affair, has agreed to become a state witness.

As part of the agreement, Ganor will spend a year in prison and pay a fine of NIS 10 million.

Ganor, the police and the State Attorney's Office all agreed to the deal, but after an indictment is filed against Ganor, the court will also have to approve it.

Ganor was in full detention for ten days. The Petah Tikva Magistrate's Court ruled Friday that Ganor would be held in a police facility under supervision for two weeks. He will be free to watch television and get family visits.

He was forbidden to leave Israel for three months and was forbidden to contact the people involved in the case for two months.

He also deposited half a million shekels in bail.

According to sources involved in the investigation, Ganor in his testimony holds a large amount of material related to Israel's security transactions and can implicate other people in the defense establishment.

According to the same sources, it appears that Ganor's testimony will lead to the incrimination of other officials in the IDF and the Defense Ministry.

Since the beginning of the month, several senior officials were arrested and interrogated—among them Netanyahu's confidant and personal lawyer David Shimron, former Navy commander Maj. Gen. (res.) Eliezer Marom and former Israeli National Security Council (NSC) senior member Brig.-Gen. (ret.) Avriel Bar-Yosef.

According to suspicions, deals for the purchase of vessels and submarines included large sums of money illegally transferred to private pockets as bribes.

Shimron has already been released from house arrest and took off for a private vacation abroad. Marom's detention ended Saturday night, and he was also released without restrictions. Ganor's right-hand man, attorney Ronen Shemer, was released to two weeks of house arrest.

As of now, only two detainees remain in the hands of the police: Ganor and Bar-Yosef.

Last week, Prime Minister Benjamin Netanyahu commented on Ganor's arrest, saying "I do not know who he is," he said. "I have never met him."