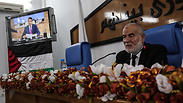 Hamas' MP and head of parliament in Gaza Ahmad Bahar chairs Palestinian legislative Council meeting,
Photo: AFP
Rival Palestinian lawmakers came together for the first time in a decade on Thursday in Gaza's parliament, the latest sign that an emerging Gaza power-sharing deal between the territory's Hamas rulers and a former Gaza strongman is moving forward.

Mohammed Dahlan, a former Gaza security chief and Hamas rival, praised the new partnership, addressing the gathering by video conference from his exile in the United Arab Emirates.

"We have made mutual efforts with our brothers in Hamas to restore hope for Gaza's heroic people," Dahlan told the lawmakers.

The gathering included dozens of legislators from Hamas, several Dahlan backers from the Fatah movement of Palestinian President Mahmoud Abbas and independents.

Fatah legislators loyal to Abbas stayed away from the meeting, underscoring the deepening rift in the movement. Dahlan fell out with Abbas in 2010.

The legislature has been idled since Hamas routed pro-Abbas forces, then under Dahlan's command, and took over Gaza in 2007.

Over the past decade, only Hamas lawmakers met in parliament to pass resolutions concerning Gaza.

The Western-backed Abbas, who administers parts of the Israeli-occupied West Bank, stayed away from Gaza.

In an interview with The Associated Press over the weekend, Dahlan revealed that the power-sharing deal with Hamas aims at easing a crippling Israeli-Egyptian blockade on Gaza, help resolve acute power shortage and pay reparations for hundreds of families who lost members during Hamas-Fatah infighting.

In recent months, Abbas has taken severe measures against Gaza to squeeze Hamas and force it to cede control, slashing salaries of former Palestinian Authority public servants there, asking Israel to scale back electricity supplies and reducing other services.

Hamas, short on options and allies, sought help from Dahlan.

Dahlan persuaded Egypt to deliver fuel shipments for Gaza's small power plant and rehabilitate Gaza's gate to the outside world, the Rafah crossing, which is to reopen by September.

Dahlan also secured funds from the ruling family in Abu Dhabi to pay compensation for families of those killed in Hamas-Fatah fighting.

Khalil al-Hayeh, a senior Hamas official, said his movement supports the understandings because they will improve conditions in Gaza.

Osama Qawasmi, a Fatah spokesman and Abbas loyalist, said Thursday's meeting reflects "small, personal, temporary partisan interests and we feel pity for this level of Hamas' relations."