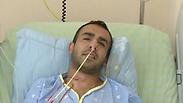 Abed al-Fatah Abu Halal
Photo: Avi Hai
State officials skip out on visiting Arab terror attack victim
Abed al-Fatah Abu Halal, the bus driver who was stabbed by a Palestinian terrorist in Petah Tikva on Monday, is still hospitalized, but so far no official has even contacted him; 'I want him to be recognized,' says his brother, accusing government of ignoring him due to his being Arab.
Three days have passed since Abed al-Fatah Abu Halal, an Egged bus driver from Ar'ara, was stabbed in Petah Tikva by a Palestinian terrorist, and according to his family, no one from the government or the Knesset made any contact with him or came to visit him at the hospital.

"No one spoke to us, not even once, maybe because he is an Arab," said Abu Halal's brother Thursday.




Abu Halal, 32, who was moderately wounded and still hospitalized at Rabin Medical Center, away from his wife and two young children, recounted the day when the harrowing events transpired.

After stopping for his lunch break, Abu Halal decided to eat at the shawarma stand. "I usually only order the food as takeout and continue to work, but I saw that I had time and decided to sit down and eat like a human being," he said.

The shawarma stand where the he was stabbed is located near the Central Bus Station, a place frequented by Abu Halal many times.

"I sat there and saw him (the terrorist—ed) come in, but I did not expect anything," he said. "You do not look at people and wonder if they will stab you or not ... He sat behind me, ordering food.

"After about three minutes, he suddenly attacked me and I did not understand what was happening. It took me a few minutes to process what had happened."

Abu Halal was stabbed in the neck and shoulder from behind. He and the terrorist had no exchange of words before the attack.

"I sat and ate, my back was to him, and suddenly he just stabbed me. That's all. I never thought such a thing could happen," he added.

On the day of the attack, the police said that it was apparently a case of mistaken identity, since the terrorist wanted to murder a Jewish man.

Abu Halal's brother, Mahmoud, criticized the elected officials who he claims ignored his brother and did not visit him after he was stabbed.

"I want him to receive support from public figures, I want him to be recognized," Mahmoud said. "No one, neither from the government nor from the Knesset, spoke to us, not even one conversation," the brother said angrily. "We did not get anything. We were just us alone. And my question is 'why do they not come'. Maybe because he is an Arab citizen?"

The brother asked, however, to thank the people who supported and encouraged them at these difficult times, especially the "Egged family for their support and encouragement."

"I would also like to thank Beilinson Hospital (Rabin Medical Center) for all their support and assistance from the moment they received my brother until now," Mahmoud added.